Announcing our 2023 Artists!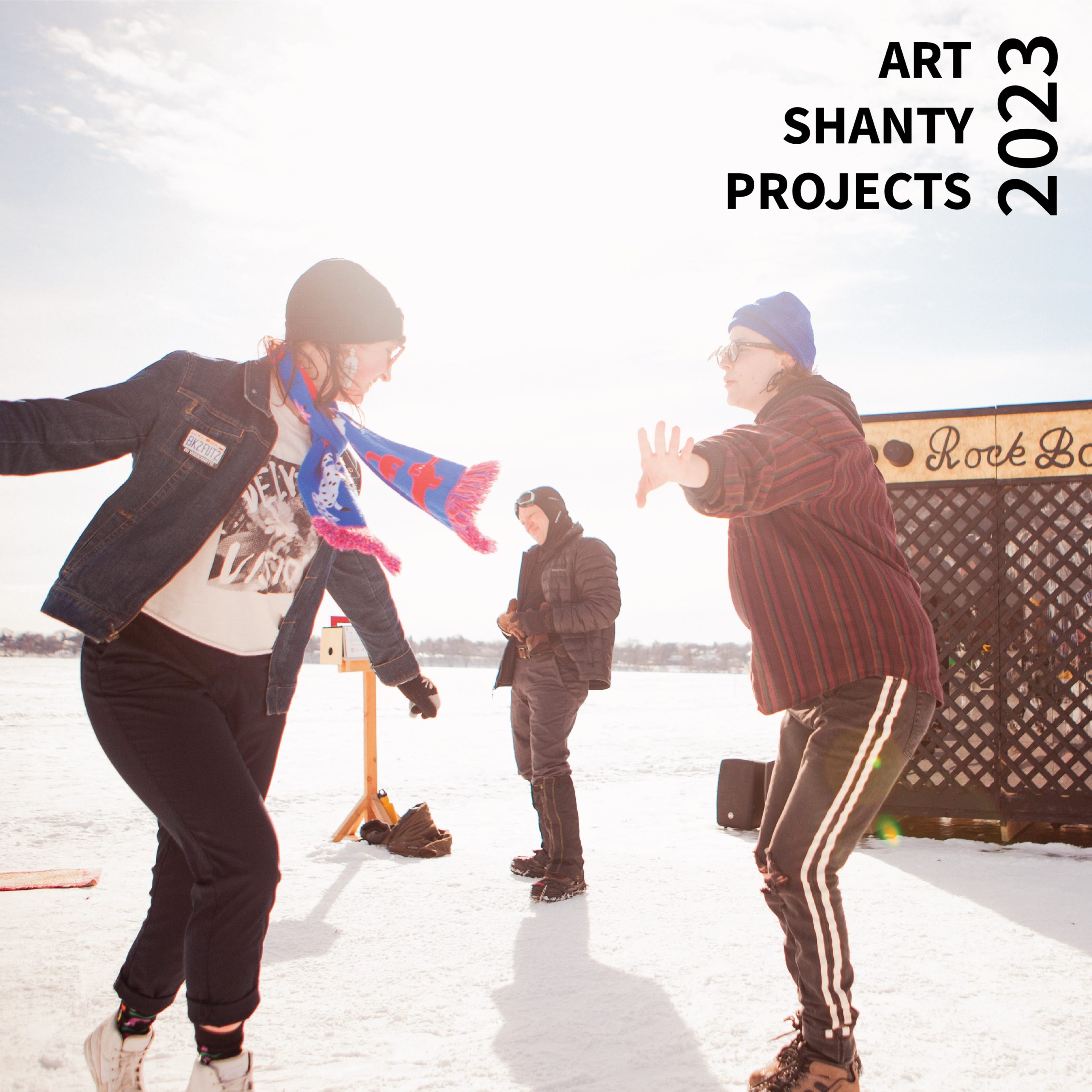 Get your shanty chic outfits ready! After a successful program with pandemic adaptations last winter, WE'RE BACK and we're thrilled to announce the 2023 artist projects!
The project titles and artist teams are listed below. See the 2023 Overview for general information on the program. See the individual project pages for all the fun details. 
The Archive of Collective Memory
Collective Memory Maintenance Committee
Blankets of Ice
Crooked Zipper
Booom Box
Jei Herald-Zamora, Nick Knutson
Chapsicle of Love
Jerry Carlson, Cyrus Carlson, Rachel Coyne
Curious Cairns
Karly Bergmann, Lauryl Bergmann
Free Store Shanty
Shanty Friends Supergroup
Gewächshaus
Mikhamik House of Arts and Jahnke Carpentry
Linden Hills Neighborhood Shanty
Linden Hills Neighborhood Council, Eric Hansen, Ed Bell, Christy Prediger, Tippy Madden, Mike Knutson and Chuck Sullivan
Magical Puppet Petting Zoo
Eva Adderley, Dan Demarco
Meditation Garden
Nanotako
#OrbForPeace
Team Snowmad
Performance Stage
Anthony Chapin, Louis Kaufman, Richard Parnell
ReCENTERed
reCENTERed
Self Reflection Shanty
Robin Garwood, Samantha Price
Techno From the Sun
Jacob Bukkila, Tom Bukkila, Thomas Grammond, Nicole Soley
Tiny Treasure House
Waverley Booth, Margaret Eby , Haley Friel, Bill Walker
Welcome Shanty
Art Shanty Board of Directors
Winterized Chicken Coop
Triple Horse Art Collective
PERFORMANCES + ART ACTIONS
Art of Expression
RZ Shahid, Righteous Emcee, Basement Gang
The Color of Winter
Outdoor Painters of Minnesota (OPM)
Community Sing on Ice
Sarina Partridge
Climate Walk on Ice
The Fashion Disasters!
Frigid Airs
An Opera Theatre (AOT) 
fro-gahhh: yoga for the planet and the people
Bridges Through Yoga
How To Move With Wonder
Sophia Munic & Nora Dolores
Hula Hoop Hoopla
Minneapolis Hoop Jams
ICE. COLD. JAZZ!
American Ice Theatre Minneapolis-St. Paul
Ice Garden
Lisa Carlson, Peter Schulze
Klezmer On Ice
Folk Will Save Us, Daniel Lentz, Josh Rosard, Pat O'Keefe, Sarah Larsson, Twin Cities Klezmer Collective
Lady Bear Explores the Art Shanty Village
Tony Chapin, Kim Ford, Meagan Juedes, Merrill Stringer, Robert Werling
Pollinator Frenzy
Ann Carter, Jan Elftman,Carrie Finnigan, Meriam Kenning, Terry McDaniel, Louise McDonald, Catherine McKee, Mary Ann Meyer, Robin Moede, Richard Parnell, Pat Ryan
Prairie Fire Lady Choir
Prairie Fire Lady Choir
Ripple
Janet Groenert
Scavenger Hunt
Michelle Cahill 
Subzero Singalong
Good Trouble: Conie + Liz
Taiko on Ice
TaikoArts Midwest
Wearable ArtCars & Contraptions Parade
The ArtCar and ArtBike Artists of Minnesota
Whether or not we can weather the weather
zAmya Theater Project
And a few more coming soon…
The Art Shanty Projects On-Ice program will take place on Bde Unma / Lake Harriet from January 21 through February 12, 2023. Public hours are 10am – 4pm every Saturday and Sunday. More details on amenities, performance schedule, etc. to come later this fall/winter!