Volunteers
While our Production Team expertly manages most of the on-ice event logistics, we rely on volunteers to keep Art Shanty Projects running smoothly. Volunteer roles include welcoming guests at the gate, helping visitors navigate parking & amenities, answering general questions, managing our kicksleds for a fun and accessible way onto the ice, and more. As we plan for an in-person festival with COVID safety measures, additional volunteer roles will be needed to support these protocols. We ask that all volunteers be fully vaccinated with the most recent booster and prepared to wear a mask. 
Nuts & Bolts: 
Art Shanty Projects is located in Bde Umáŋ/Lake Harriet in Minneapolis, MN and will be open to the public 10am-4pm on Saturdays and Sundays from January 21 – February 12, 2023. Volunteer shifts are 4 hours (morning shifts from 9:30am-1:30pm and afternoon shifts from 12:30pm-4:30pm). We ask that volunteers are prepared to spend most of the day outside, so appropriate winter gear is important for variable weather.
Perks:
We're grateful for your service and have some perks to offer. Volunteers get free parking and hot food and beverages on the day they volunteer, invitations to special member/artist events, and are not expected to make a monetary contribution at the gate (on their volunteer date or any date they choose to visit).
Ready to join us? Fill out this form! 
Questions? Send an email to Pamela: pamela@artshantyprojects.org
Read a volunteer reflection from current staff member Alex here!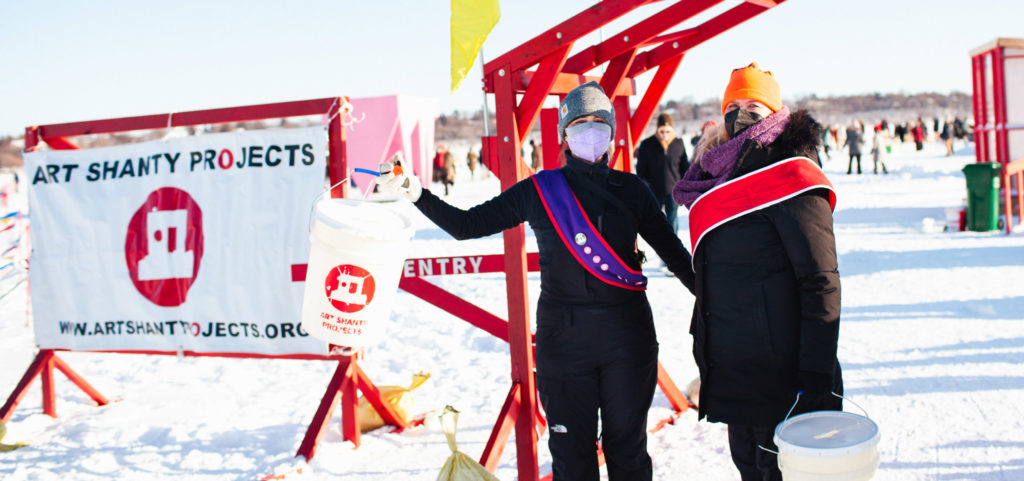 Pamela and a volunteer greet visitors during our 2022 program. Photo: Free Truth Media.