Become a Contributor
Sponsor a joyous event that celebrates art, winter, and community in Minneapolis! This year Art Shanty Projects is celebrating 20 years of weird and wonderful winters!
Donate to Art Shanty Projects
Art Shanty Projects depends on support from people like you. Please donate any amount that makes sense to you.
What your contribution supports:
ASL Interpreters + Audio describers
The largest portion of our budget (79%) goes towards paying people! Additional program costs (9%)  include infrastructure essentials like permits, insurance, sanitation, supplies, ramps, plowing, and equipment rental; and limited fundraising and operations expenses (12%).
Since 2004 Art Shanty Projects (ASP) has created joyful winter art experiences for grown adults and kids of all ages. Inspired by pop-up ice fishing villages, artists use the frozen lake as a public platform to create a temporary community, immersing visitors in a colorful village filled with interactive installations and performances. Together, with 200+ artists and 30,000 annual visitors, we celebrate, champion, and embrace the extreme winter sport of art making!
Join us and spread joy & build community connection during frigid Minnesota winters!
ASP provides family-friendly, accessible, and fun activities that get people outside, make art widely available, and help build community on the frozen Bdé Umáŋ/Lake Harriet. There's nothing else like it. We're proud it takes place right here in Minneapolis.
Community Support
This community event is free to attend, but not free to produce. As a nonprofit organization, we rely on community support – cash and in-kind donations – to create this unique experience.
Projected income breakdown:
Individuals 69%
Local Businesses 5%
Grants 15%
Earned income 10%
In-Kind: $18,000 value
in food & supplies!
Anticipated 2024 numbers:
Attendance: 30,000
Facebook followers: 10,000
Instagram followers: 7,000+
Newsletter audience: 2500
ALL BUSINESS SUPPORTERS are invited to Special Events including the Membership Launch Party, Member Night On Ice, and the Wrap Party. With food, fire, drinks and entertainment, you have an opportunity to celebrate shanty season and build community with our artists and fellow supporters.
Business Supporter Levels and REcognition Menu
IT TAKES A VILLAGE TO BUILD A VIBRANT ART VILLAGE ON ICE….JOIN US as a business supporter!
Contact our Operations Director, Christina DeVries, to make a financial or in-kind contribution. 
Help Art Shanty Projects bring a winter of HOPE, FUN, DELIGHT, and JOY to an anticipated 30,000 adventurous festival visitors this winter! Make ART ON ICE IN PUBLIC happen with a contribution at a level that is meaningful to you. Our public art event is free to attend, but not free to produce. As a 501c3 non-profit, our sustainability depends on donations from businesses, grants, and individuals like you.
We gladly welcome donations in any amount. 2024 shanty season Memberships start at just $25 / year.
2024 MEMBERS ARE INVITED TO THREE SHANTERRIFIC OUTDOOR PARTIES!
Membership Launch Party: featuring delicious drinks, a hot potato bar, music, and Art Shanty trivia. This is OUTSIDE on the patio at Lake Monster Brewing on Thursday, November 9, 6-8pm. All are welcome to join, but members get free tap drinks courtesy of Lake Monster and are eligible to win most excellent prizes. Bundle up in your wildest, most shantastic (and WARM) outfit for a chance to win the grand prize of the night!
Member Night On Ice: an intimate chance to see the shanty village after dark. Enjoy hot food and drinks, bonfires, and cool company with the artists. This happens in the shanty village on Bde Unma / Lake Harriet. Date and time will be revealed to members in January.
Wrap Party: This is a post-program celebration for the artists! Date / time / location will be revealed to members in January.
Suggested Membership Levels​
We invite you to give at a level that makes sense for you. All members receive the same benefits. 
Bring HOPE!
$25
Bring FUN!
$60
Bring DELIGHT!
$120 
Bring JOY!
$240 
Access to exclusive member events: Launch Party, Member Night on Ice, & Wrap Party.  Meet the artists, connect with shanty enthusiasts, and get a behind-the-scenes look at the artmaking.
Member button! (pick it up at any of the member events, or at the Welcome Shanty at the festival)
A 10% discount on Art Shanty Projects merch at the festival
Recognition on the Art Shanty Projects website 
Recognition on the donor wall at the festival (if you give by December 31, 2023)
A chance to win prizes from local businesses
Keep your mittens on at the gate! (you don't have to wait in line)
*We think the biggest benefit of all is the warm feeling that you get from supporting an artist-driven festival on ice!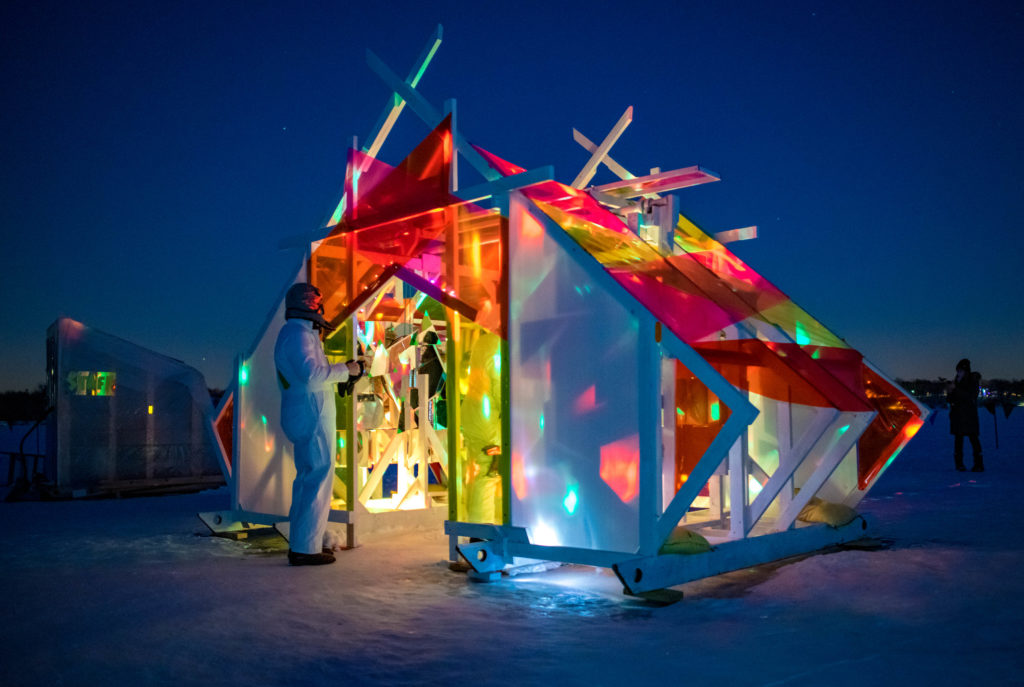 We fearlessly do what we do to uplift art and joyful connection for our community of artists, neighbors, fans, and new friends (in the freaking coldest months). In return, a whopping 80% of Art Shanty Project's income & in-kind donations come from our community. We couldn't do it without this incredible show of kindness and reciprocity.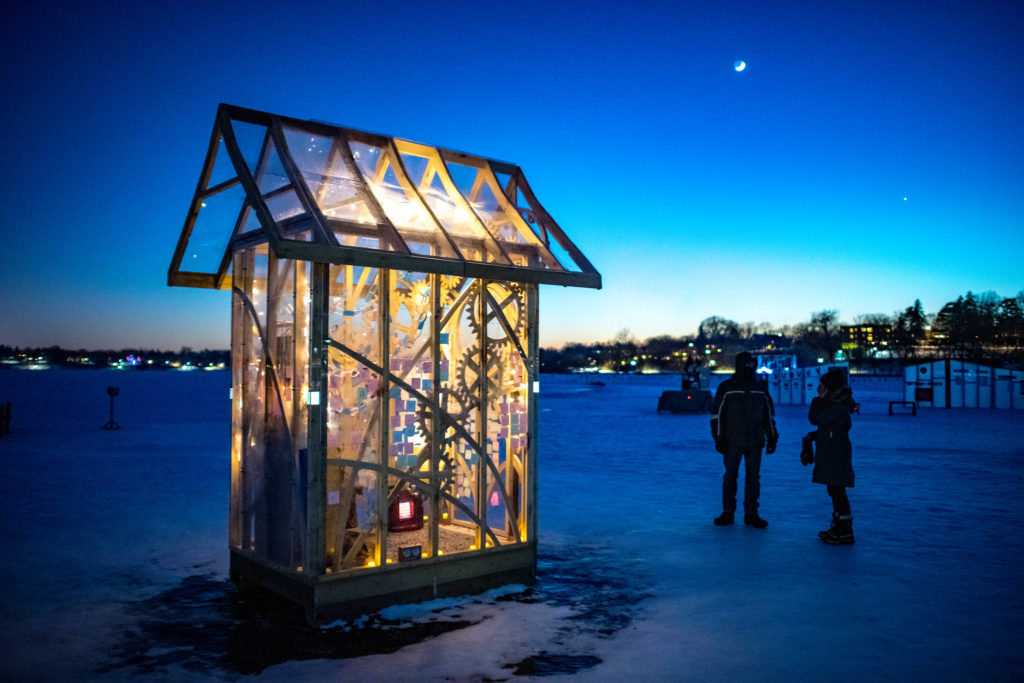 We invite you to celebrate the human connections that are formed in creative community, in winter, in our beloved city, at Art Shanties. Our community event is community funded. Donations in any amount count! The radical generosity of many helps make it possible for all. 
Donate to Art Shanty Projects
Art Shanty Projects depends on support from people like you. Please donate any amount that makes sense to you.