Collective Effervescence TO THE MAX!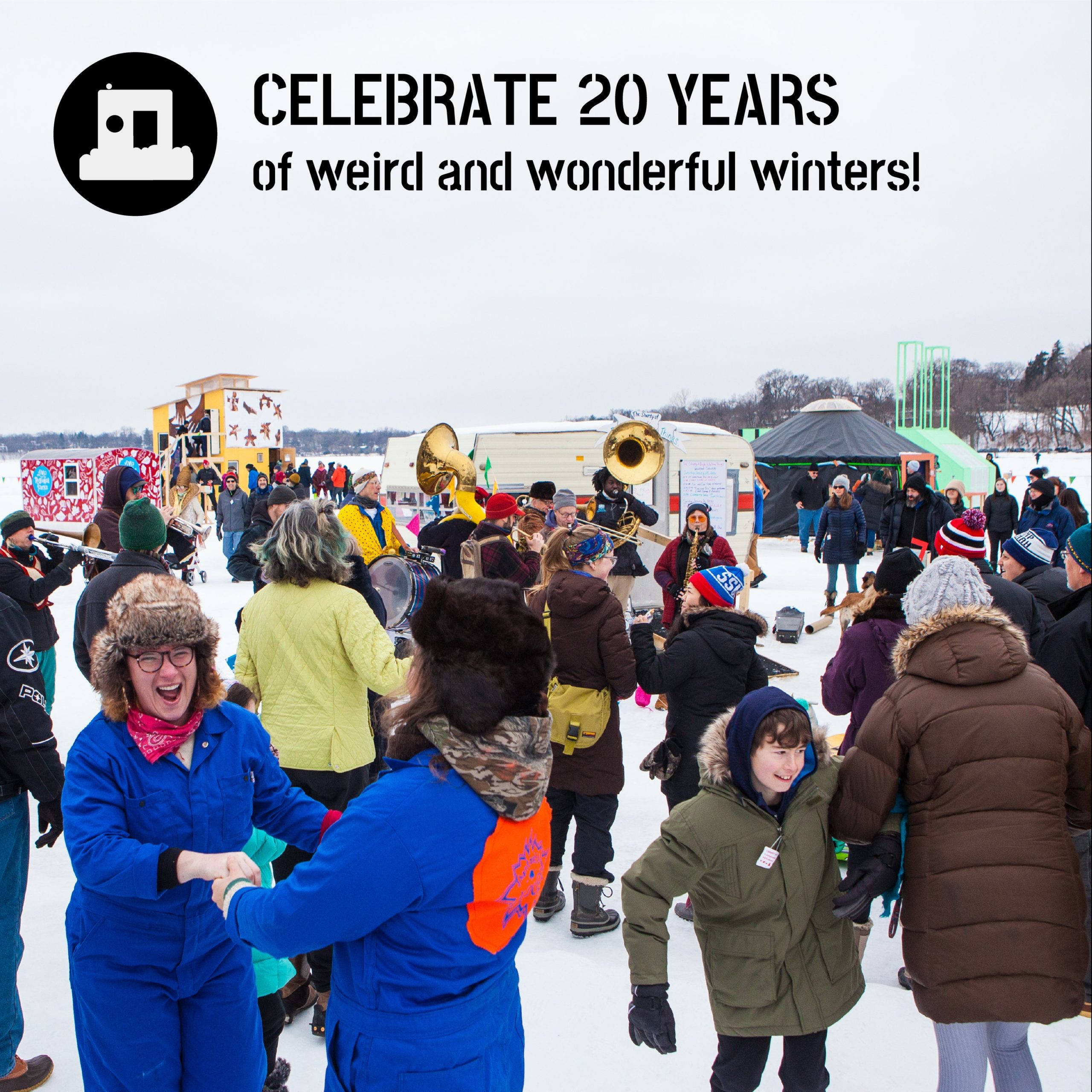 ART SHANTY PROJECTS IS TURNING 20!
Back in 2004 two artists – Peter Haakon Thompson and David Pitman – built a shanty from salvaged materials and invited friends to join them in the middle of an ice fishing village on Medicine Lake. Twenty years, three lakes, official non-profit status, and thousands of artists later we're still creating a one-of-a-kind shanty village – an immersive, interactive experience for adventurous artists and eager visitors.  
As we approach Give to the Max Day and year-end giving, we invite you to make a donation to celebrate our intrepid roots, support our current 20th anniversary program, and help buoy our future.

PUBLIC ART + PUBLIC HEALTH
As a public art organization we increasingly recognize our value in public life – and that we fill a critical public health need for our community to creatively connect during winter, which can be an isolating season for many.
Lately we've been geeking out on the science of awe. You may have heard U.S. Surgeon General Vivek Murthy talk about the current public health epidemic of loneliness, and that awe-inspiring activities – connecting with people, in nature, through shared experiences (like those at Art Shanty Projects!) –  are the simplest, most effective way to alleviate this.  Social connection is a powerful tool. 
He references this incredible term 'collective effervescence' coined by sociologist Émile Durkheim, describing it as the deep tendency of humans to move together, which brings a sense of unity, awe, bliss. It is human to move our bodies in unison – whether through communal dance or through simple acts of physically gathering. Opportunities for collective effervescence are around every corner at Art Shanty Projects!

Curious about the science of awe? We recommend these podcasts: The Thrilling New Science of Awe and To Be a Healer.

CELEBRATE OUR 20th ANNIVERSARY WITH A DONATION
Please celebrate our 20th anniversary and the collective effervescence of the shanty village by making a donation in advance of our program! The radical generosity of many helps make this art experience possible for all. Donations in any amount are appreciated, give an amount that feels meaningful to you! Memberships start at just $25 and include invites to parties, special nighttime events on ice, and more.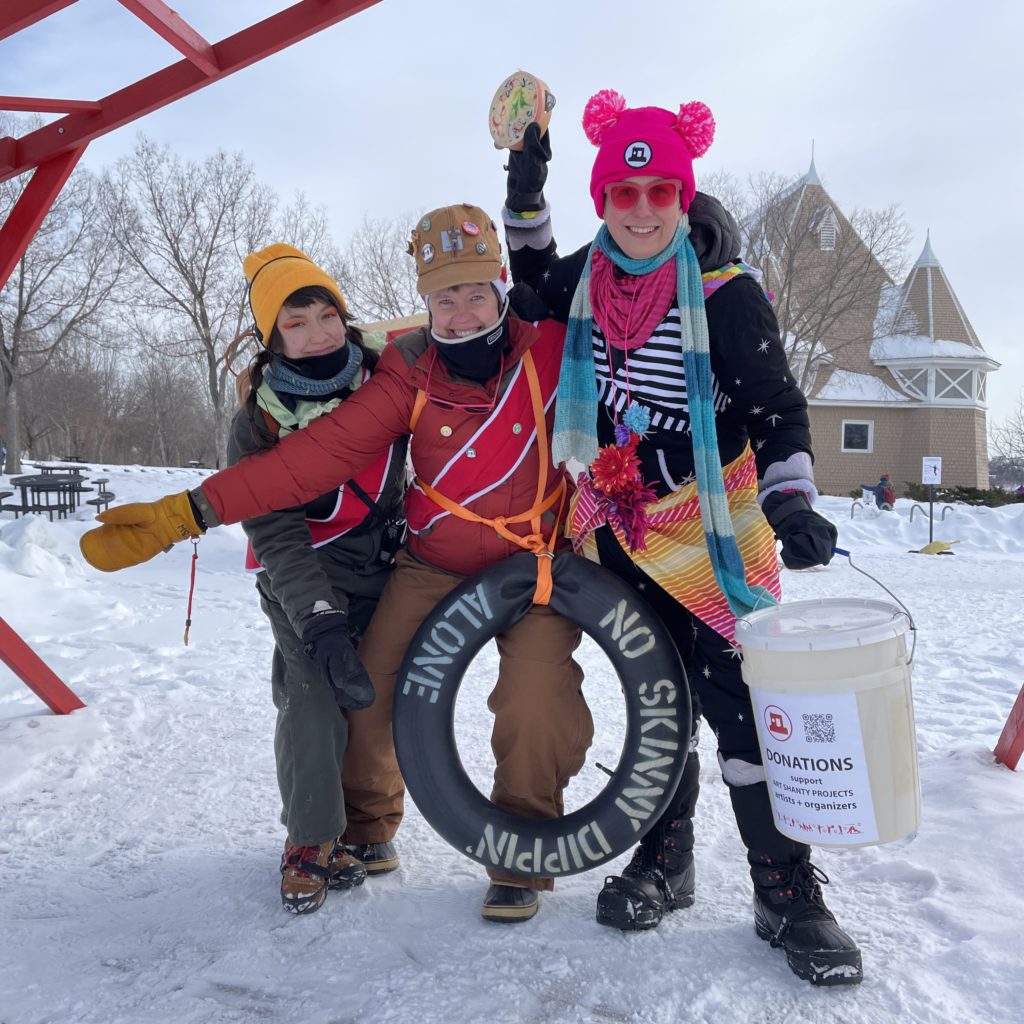 WE NEED COMMUNITY SUPPORT NOW
Last year, because of a last-minute freak weather event (hello, climate chaos!), we pivoted to Plan Beach. The experience was as meaningful as ever, but we raise the vast majority of our community funding from in-person donations at the program. As a result of the logistics of the move, we took a huge financial hit, experiencing a net loss of $35,500.
A hit that big affects the long-term sustainability of an org our size and we need to raise funds from community supporters now to ensure success for this upcoming season and beyond.  Every dollar makes a difference, and it can all add up fast! 
a

$25 gift today

covers one hour's pay for a medic (and makes you a member for our 2024 Season)!

If 20 people each give

a $60 gift today

our permit fees are covered!

If 16 people

give $120,

our ASL interpreters and audio describers are paid for!

A

$250 gift,

combined with 9 other $250 gifts, sponsors one Art Shanty artist for our 20th Year!
We fearlessly do what we do to uplift art and joyful connection for artists, neighbors, fans, and new friends –  and in return, a whopping 80% of Art Shanty Project's income & in-kind donations come from our community.

We couldn't do our programming without this incredible demonstration of kindness and reciprocity.
Please join us! DONATE TODAY!

XOXO,
the Art Shanty Projects Staff & Board
Donate to Art Shanty Projects
Art Shanty Projects depends on support from our community. Please donate any amount that is meaningful to you!