Art Shanty Projects Announces Artists and Performers for the 2020 On-Ice Program!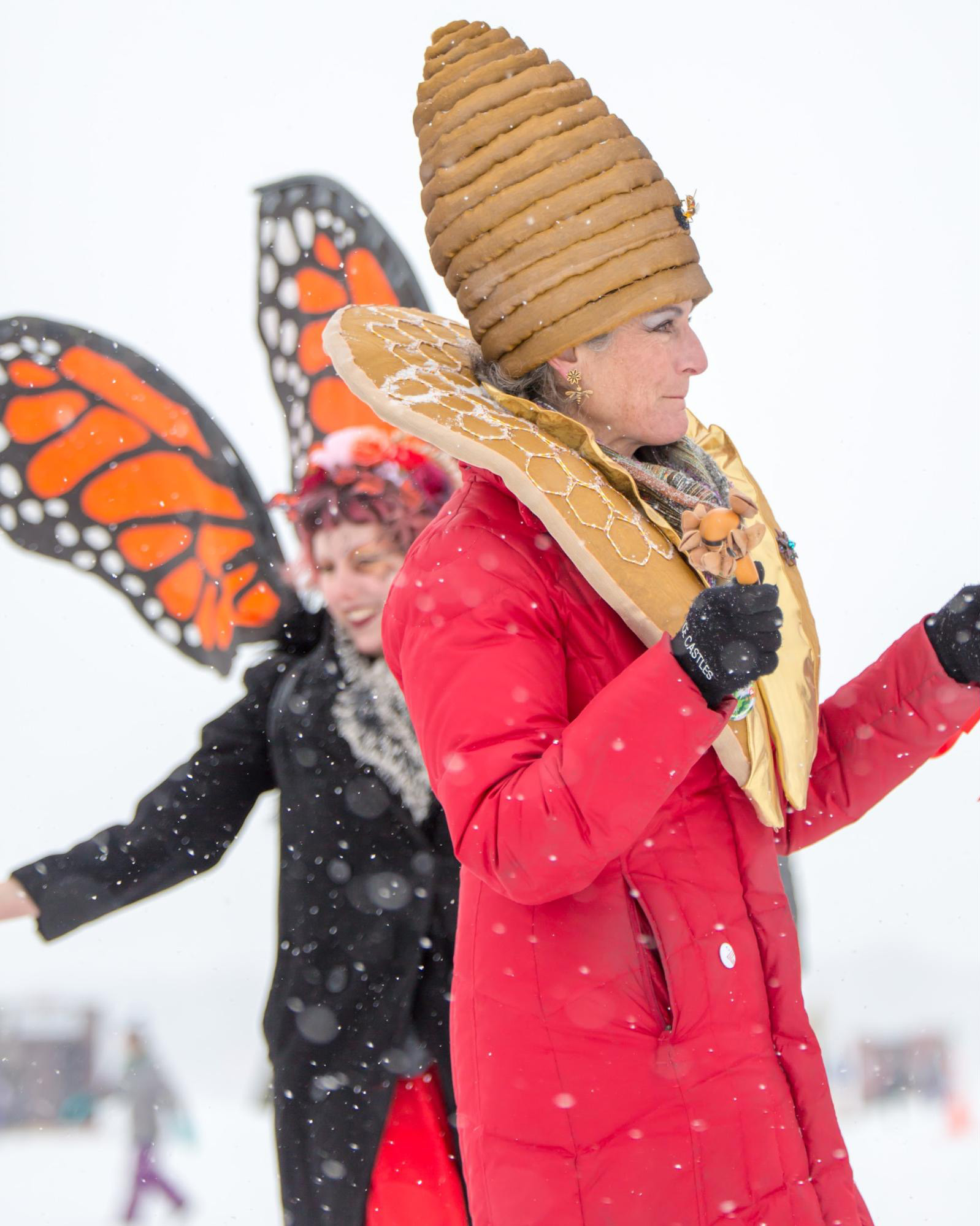 After a year off the ice, we are thrilled to announce the participating artists for the 2020 On-Ice Program! As in past years, we invited the public to submit proposals for shanties and performances through an open call process. A jury comprised of arts professionals, past shanty artists, and representatives from the Art Shanty Projects board and staff selected the projects. As we strive for more equitable and inclusive programming, this year will also feature projects curated outside of the open call process through partnerships with community organizations, including: Better Futures Minnesota, Native American Community Development Institute (NACDI), and zAmya Theater Project.
"I'm very excited for our programming this year, which includes some new and enhanced projects by longtime shanty artists (including one of our founders, David Pitman!), while half of the artists are first-timers who bring a completely fresh perspective," says Artistic Director Erin Lavelle. "We're creating a temporary artistic community together – in a dynamic winter environment – and I'm delighted to help foster collaboration and witness both emerging and established artists expand the boundaries of their practice. It's going to be fun!"
Highlights from returning artists include an adaptation of the thoughtful Northern Spark project, The Archive of Apologies and Pardons by Sami Pfeffer; a day of interactive lacrosse games with Thakápsičapi (They Play Lacrosse) presented by Twin Cities Native Lacrosse, and two competing tour company shanties that will take audiences throughout the village with humor and whimsy from artist teams led by Claire Swanback and Jeffrey Sherman. Monarch Migration Shanty will also be back with stunning new pollinator bikes for audiences to ride. Projects by newcomers this year include a delightful camera obscura shanty, Opticon, by Silvana Agostoni; a rap performance, LeadFoot to the Xanadu, by Rz Shahid, which will happen inside Nick Knutson's -7° Entry shanty (which will otherwise serve as a danceteria during public hours); and a timely carnival-style performance that exposes rigged voting systems, Step Right Up! Voting Booth, by Kansas-based artist Erika Nelson.
Art Shanty Projects 2020 On-Ice Program
Click here for a gallery style view of this years' artists with more info!
SHANTIES
-7° Entry Danceteria
Nick Knutson, Nick Smith, DJ Short Scoff, Mason Butler, Gretchin Doebler, Kendall Wolf, Andrew Conway, Ben Severns, Steve Peterson
The Archive of Apologies and Pardons
Oz Grinager, Sami Pfeffer, Essie Schlotterbeck
Glass Half _______
Gabriel Bodkin and Alex Schluender
The Holding Shanty
Allison Baker, Molly Balcom Raleigh, Valentine Cadieux, David Marsh-Pitman, Nik Ranpura, Emily Stover, Rachel Swearingen
Ice Lawn
Interesting Tactics
Infrare
Robin Garwood
Monarch Migration Shanty
Majentah Bloom, Tara Fahey, Janet Groenert, Mina Leierwood, Terry McDaniel, Richard Parnell, Peter Schulze and Minnesota Valley National Wildlife Refuge, Suzanne Trapp
Shanties presented by Native American Community Development Institute (NACDI)
Artists and titles coming soon!
The Naturehood Shanty
Amanda Lovelee, Ellie Hohulin
NautiCult; a cautionary tale of an arctic shipwreck
Sam Granum, Sarah Honeywell, Angela North, Travis Peterson
Opticon
Silvana Agostoni
Rocky the Rockin Sea Shanty
Twin Cities Sailing Club
Seedbank
Grant McFarland & Anna Van Voorhis
Shantastic Tours!
Ari Baum-Hommes, Clara Schiller, Claire Swanback
The Shanty of People Who Know Things
Artists 55 and Older
Shanty Village Tours
Jeffrey Sherman
Spectra Gigs
Jeff Berg, Derek Ahlberg, Paul Owen
Star Light, Star Bright
Angie Courchaine
Temple of Agency
Lauren Evans, Brittany Kappel, Alex Legeros, Maren Legeros, Thomas Putzier, Carlie Ridgeway, Christina Stamatoukos, Nicole Wyszynski
PERFORMANCES
Circulating Nest
Bella Yaga
LADY BEAR!
Kim Ford & team
LeadFoot To The Xanadu
Rz Shahid
Minnesota Nickel
Su Legatt & team
Nitka
Nitka
Patti Pucker: Live From the Ice!
Patti J. Paulson
Prairie Fire Lady Choir
Prairie Fire Lady Choir
Step Right Up! Voting Booth
Erika Nelson
Thakápsičapi (They Play Lacrosse)
Twin Cities Native Lacrosse
That Reminds Me
zAmya Theater Project
The World's Only Tiny ArtCar Parade on Ice
The ArtCar and ArtBike Artists of Minnesota
Winter Plein Air Painting
Winter Plein Air Painters
The Art Shanty Projects On-Ice program will take place on Bde Unma/Lake Harriet from January 18 through February 9, 2020. Public hours are 10am – 4pm every Saturday and Sunday. There will be a suggested donation at the gate this season and funds will support the compensation of artists and staff and will help ensure a viable future for the organization's programming.