Announcing the 2024 Artists!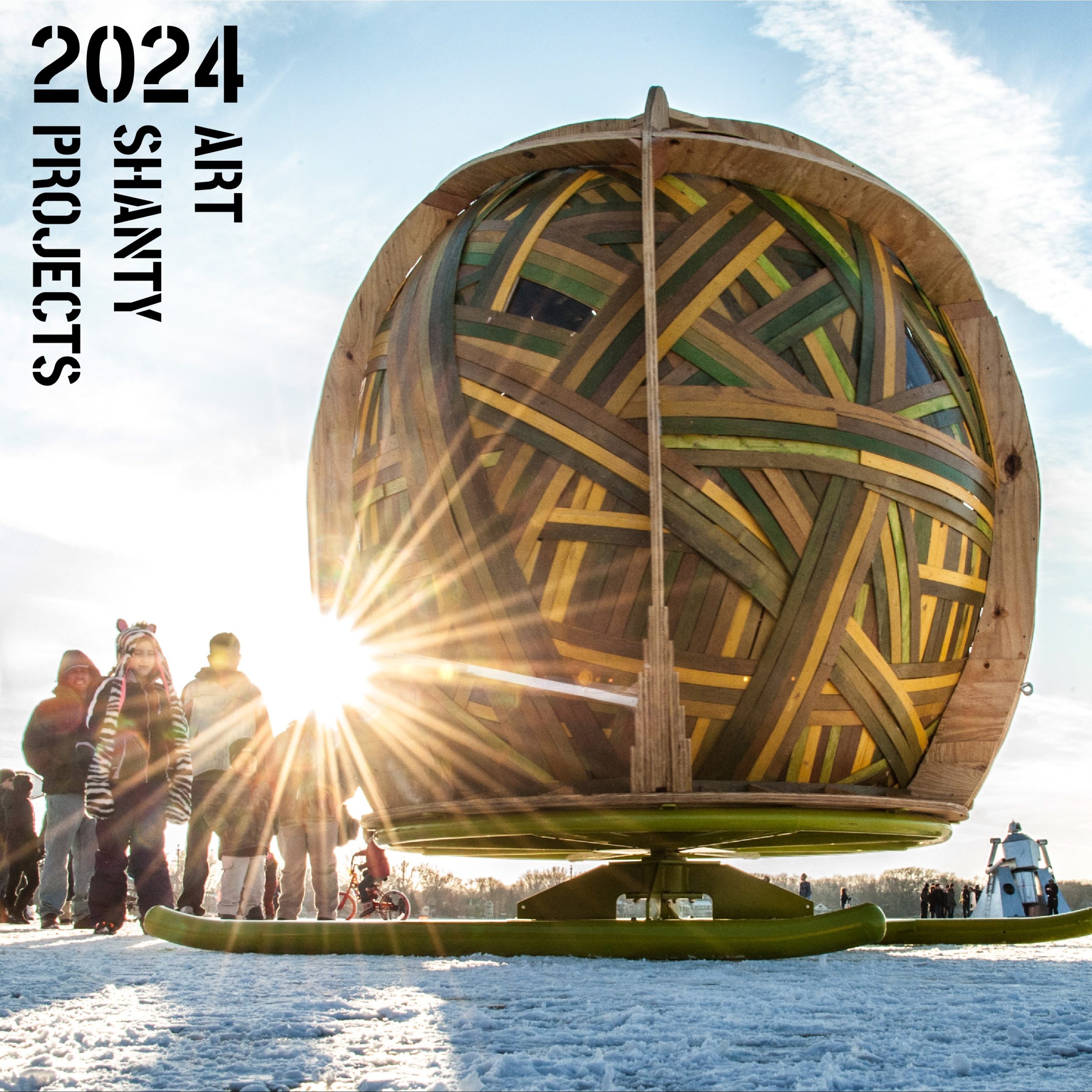 Visitors line up to spin inside a shanty at Medicine Lake. The iconic robot shanty is in the distance. Photo: Max Haynes
Art Shanty Projects is returning to Bdé Umáŋ / Lake Harriet in South Minneapolis January 20 – February 11, 2024. The month-long program features sonically satisfying, visually dazzling and community-engaged offerings that embrace the challenges and opportunities of winter through immersive, adventuresome, participatory art. 
We are proud to host these artists in celebration of our 20 years of weird & wonderful winters! 
Check out the program overview and individual project pages for all the fun details!
SHANTIES
Close-Knit Pavilion
Sundus Al-Bayati, Amelia Rosenbush, Kate Zimmerman 
Curious Cairns
Karly Bergmann, Lauryl Bergmann, Ben Paul
Free Store Shanty
Shanty Friends Supergroup
Frozen Myth: Mastering Winter Shadows
Kara Faye Gregory, Jesus Li
Hot Box: Disco Inferno
Joe Fagerhaugh, Jei Herald-Zamora, Nick Knutson, Morgan Lust, Ryan North
La Casa de los Sueños de Colores 2.0
Alexander Aleman,  Mikha Dominguez
Magical Nature Center and Conservation Area
Eva Adderley, Dan DeMarco, Waverly Booth, Zara TM, Mary Jo Nikolai
Mesmerized by Books: Banned Book Reading Room
Cyrus Carlson, Jerry Carlson, Rachel Coyne
NatureGrafter
Robin Garwood and Sam Price
Northern Star Film Studio
Greg Bates, Jason Buranen, Sam Granum, Shannon Troy Jones, Michael LoPresti
Performance Stage
Anthony Chapin, Louis Kaufman, Richard Parnell
Reduce Reuse Re-Xylophone
Mady Gulon; Marshall King; Jakob Mahla; Derek Ronding
Time.Light.Color.
Alan Berg, Elisabeth Farrell, Bridget Lynch, Ian Nystrom
Tiny Treasure House
Team Treasure
Welcome Shanty
Designed and constructed by students at the University of Minnesota School of Architecture. Remodeled and staffed by the board members of Art Shanty Projects.
Wicked Winter
Wicked Winter Witches
PERFORMANCES + ART ACTIONS
Atop the Above
Felicia Cooper
Community Sing on Ice
Sarina Partridge
fro-gahhh: yoga for the planet and the people
Bridges through Yoga
Hula Hoop Hoopla
Minneapolis Hoop Jams
Ice Pirate Radio
Sebura&Gartelmann
Kith + Kin On Ice
Kith + Kin Chorus
Klezmer on Ice
rafa kern, Sarah Larsson, Or Levinson, Josh Rosard, Ilya Shneyveys, Danny Lentz, Pat O'Keefe, Caleb Likely, Di Bayke Klezmer Band
Ladies of the Lost Continent
Monica Rojas
Lady Bear Returns!
Tony Chapin, Kim Ford, Meg Juedes, Merrill Stringer, Robert Werling, Sherry Zimmerman
OPM Painter Present: Still Life Painting when Life Won't Stand Still
Winter Plein Air Painters from Outdoor Painters of Minnesota
Pollinator Frenzy
Terry McDaniel & the Minnesota Native Pollinators
Prairie Fire Lady Choir
Prairie Fire Lady Choir
Taiko on Ice
TaikoArts Midwest
Thakápsičapi
Twin Cities Native Lacrosse
The World's Only Wearable Art Contraption Parade on Ice!
ArtStart and Minnesota ArtCars
Three Ring Goose Circus
Henry Kneiszel, Alyssa Lucas, Jess Morgan
Winter Life Outta Sight
Will Bjorndal
Map, amenities, and performance schedule (and a few more projects!) to be announced later in November!
A person peers through a shiny zoetrope at Art Shanty Projects. Photo: Max Haynes