Meet our 2024 Production Team!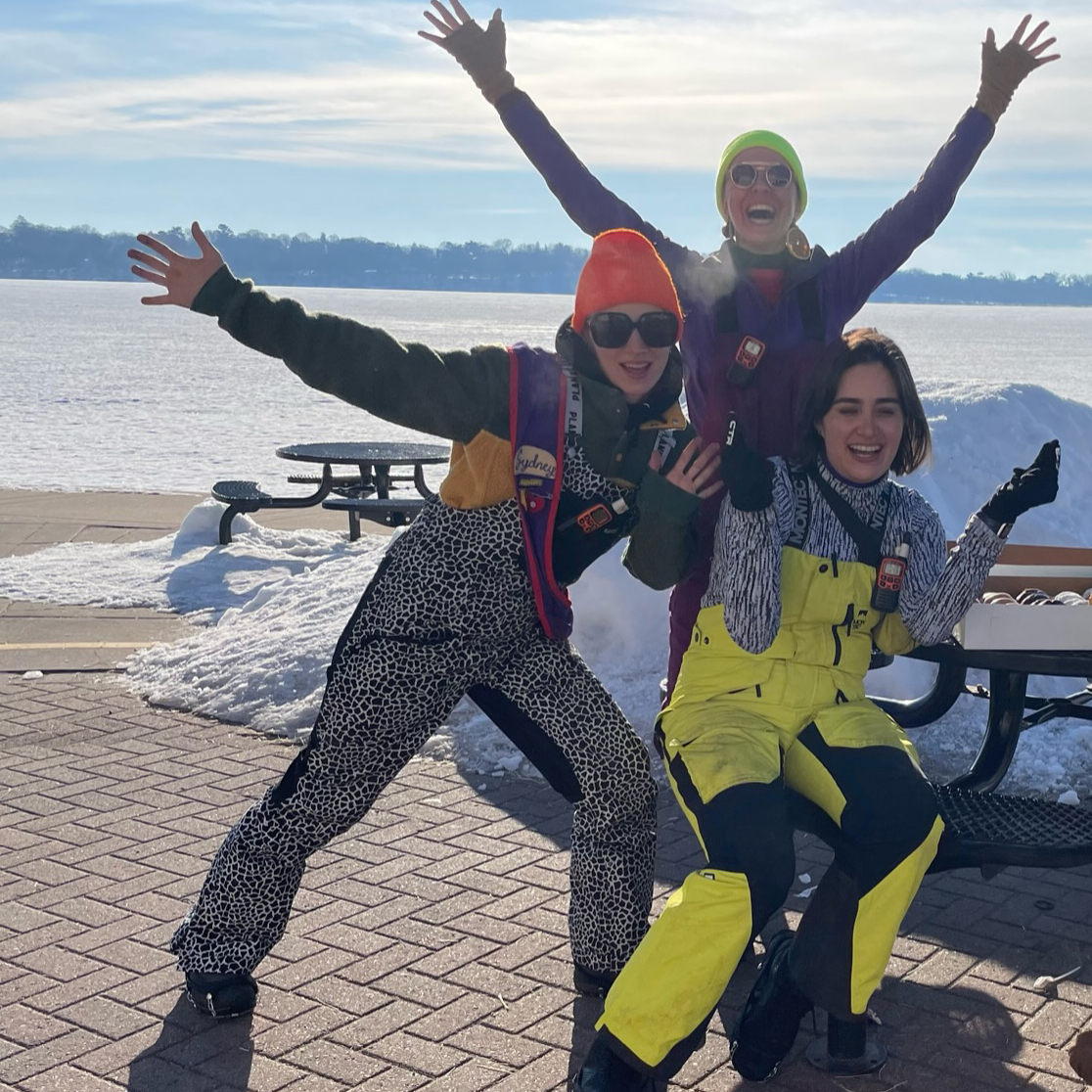 We're DELIGHTED to introduce our 2024 Production Team to you:  Ches, Syd, Pamela and Angie!
It's officially autumn, which means we're inching closer to shanty season! We've been working hard behind the scenes to get ready to greet you at the lake (in a few short months!) and we're pleased to announce our Production Team for this year! We've got three returning members who you already know and love, and one new member who we're excited for you to meet!
Since 2019 we've had a focus on collaboration and co-learning, and our team works differently than most. Each year our producers discuss the long list of tasks and projects necessary to support artists and audiences and they negotiate who will lead on what (and who will lend support). Our goal is to ensure that each producer feels they are making meaningful contributions while also learning something new. We're pretty proud of it! And we're grateful that these friends want to explore working this way with us.
Ches Cipriano (they/them) is a Filipino, Queer, first-generation American. They operate as a community cultivator, radical joy seeker and mixed-media collaborator. Their artistic practice is rooted in puppetry, animation, and tickling curiosities. They treasure community-based art, and you can often find them at Heart of the Beast or Open Eye Theater. Ches feels a great deal of jubilation in the winter – as an annual participant of the Medallion Hunt, and an adoring fan of the Art Shanty Projects. They are ecstatic to be on the production team and to support bringing Art to the public in the coolest way!
Ches will help curate the performance schedule and keep performers happy and on track, seek some delightful in-kind prize sponsors, diligently manage data (alongside Syd), train us all on our emergency planning (so important!), and scour the internet for new contacts to add to our media list so more people know exactly what we're up to on the frozen lake!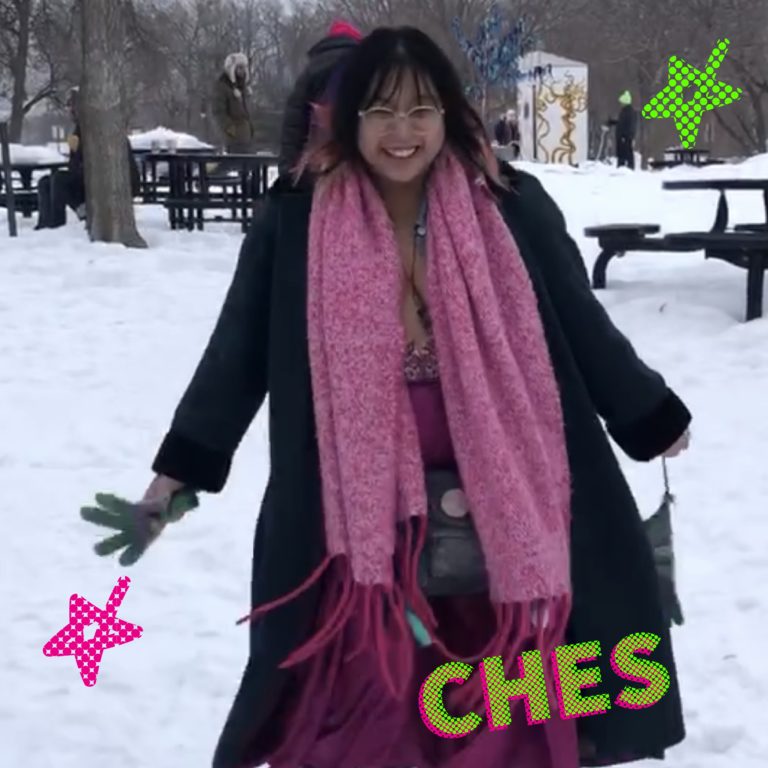 Sydney Petersen (they/them) is visual artist and producer from Seattle. They had their first encounter with the Art Shanties on White Bear Lake while taking a media class at Macalester. The delight of the whimsical, artistically minded, and intergenerational community found at sub freezing temps has lured Sydney back year after year—as a volunteer, part of the Free Store Shanty Crew, and the back half of Lady Bear. They are looking forward to being part of the production team for a second year to bring shantastic art to the public, and to supporting the artists along the way!
Syd will help shanty artists figure out how to build bestly, spill all the fun shanty details to our ASL interpreters and Audio Describers so they're ready to offer tours of the projects, dumpster dive into zero waste planning, diligently manage data (along with Ches), and make some rad signage and graphics!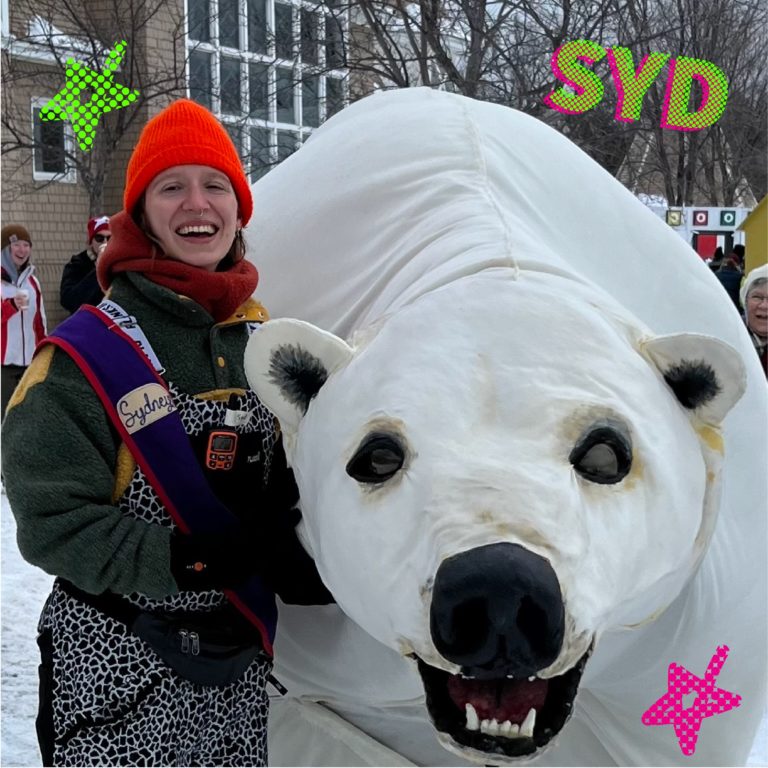 Pamela Vázquez (she/her) is an art historian, curator, producer from Mexico who has made Minneapolis her home for the past six years. She has collaborated in the production of public art events and in curatorial projects shown locally and beyond. Self-proclaimed fungi enthusiast and winter fanatic, she is always on the lookout for collaborative, community-based projects and learning about the land she now occupies. Pamela has been part of Art Shanty Projects as a juror, volunteer and as a returning production team member—she can't wait to support the whimsical shanty community this 2024 season!
Pamela is our food truck whisperer, snack supplier, merch maven, and volunteer manager extraordinaire (alongside Angie). She will also be keeping on top of COVID information and resources for our community and take one for the team by ordering porta-potties and making sure they're regularly serviced! She does this for YOU! What a relief!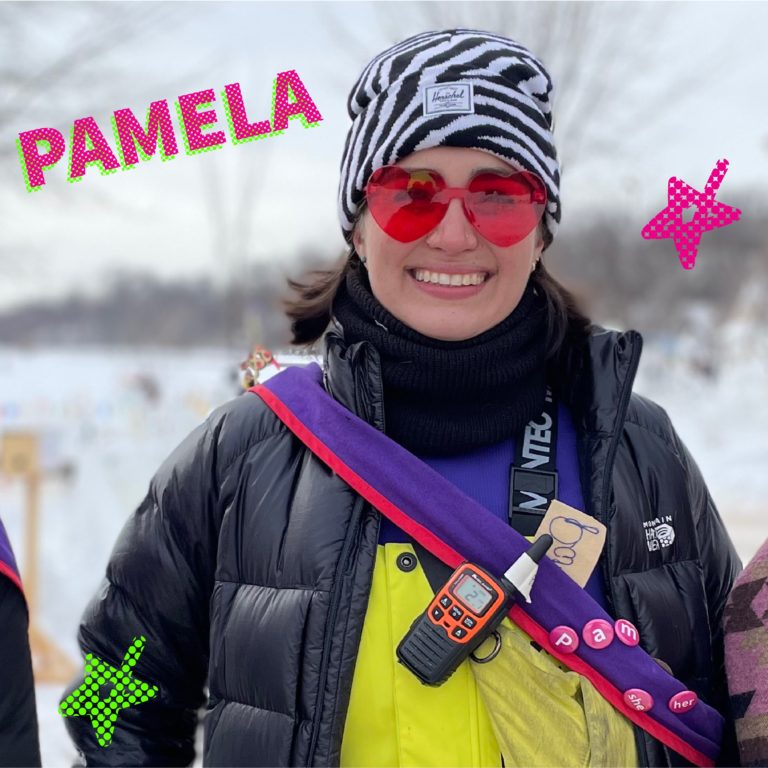 Angie Courchaine (they/them) is a community-based artist and teacher living and working in South Minneapolis. They enjoy working on collaborative projects, usually using their skills in visual arts, puppetry, and movement. Angie has a long history with In the Heart of the Beast's May Day Parade, the BareBones Halloween Extravaganza, and the Hijinks Stilt Collective (fka Chicks on Sticks), and is a co-founder of Pinwheel Arts and Movement Studio. They co-created the Star Lite, Star Brite and Texture Garden Shanties, and are excited to return as a producer for a second year.   
Angie (as 'Producer Lite') will be joining us in January to do some heavy lifting during install, and during the program they will work with volunteers alongside Pamela and support the comfort of our community by announcing lunch to artists daily and keeping the warming fire stoked!