Meet Pamela! (and join her on the production team)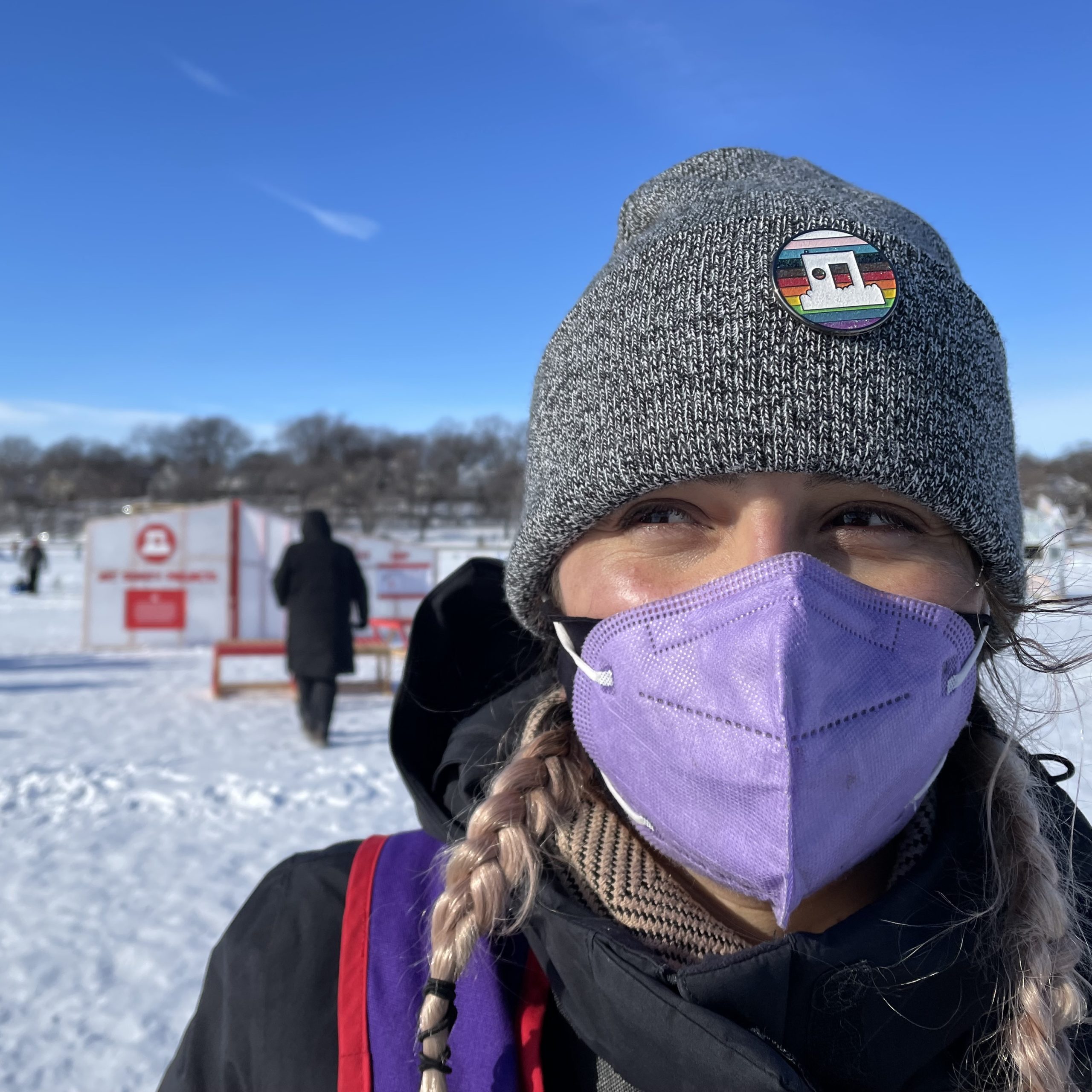 Meet Pamela (she/her)! An art historian, curator, artist, and producer from Mexico, she has made Minneapolis her home for the past five years.  After visiting Art Shanties for the first time in 2020 she came back to volunteer the very next weekend, then joined the production team in 2022. She is a star at working with merchandise and food vendors, managing volunteers, driving trucks, and just generally jumping in whenever something needs attention. She won the 'snack badge' for her back of house hospitality last year and looks forward to supporting the artist community again for our 2023 shanty season!
We asked her to describe what it's like to be on the production team and why people should apply. 
Pamela says she logged 10,000 – 20,000 steps daily on the ice, and enjoyed getting to know the artists.  She describes the team members as: emphatic, caring, enthusiastic, adventurous. The three emojis that encapsulate her experience are: 🥶🖤✨
She was surprised at how much she laughed on the job. " (laughing…) I'm picturing myself putting on all the layers. I'm giggling because I think it's funny that it takes such an effort to be out there, all the things you need to do to endure the temperature. But somehow there are thousands of people that are there with you in the same spirit."  Describing her relationship with the coldest season, she says: "Winter has become a lesson on time and the importance of being present. And to learn how to enjoy things. Art Shanties brings those things together. You get a tiny window of time to be on top of the lake with a village!  It's a very specific moment  when you can be riding a dingo pulling a little house!" 
Who should consider applying for this job? "This is for people who are up for a winter adventure but who also want to work with a team that's always trying to find better ways to work together and to bring cool art to the community."
Want to work with Pamela? You're in luck! We have openings on our production team. Applications due August 8. Details here!