HIRING: Operations Director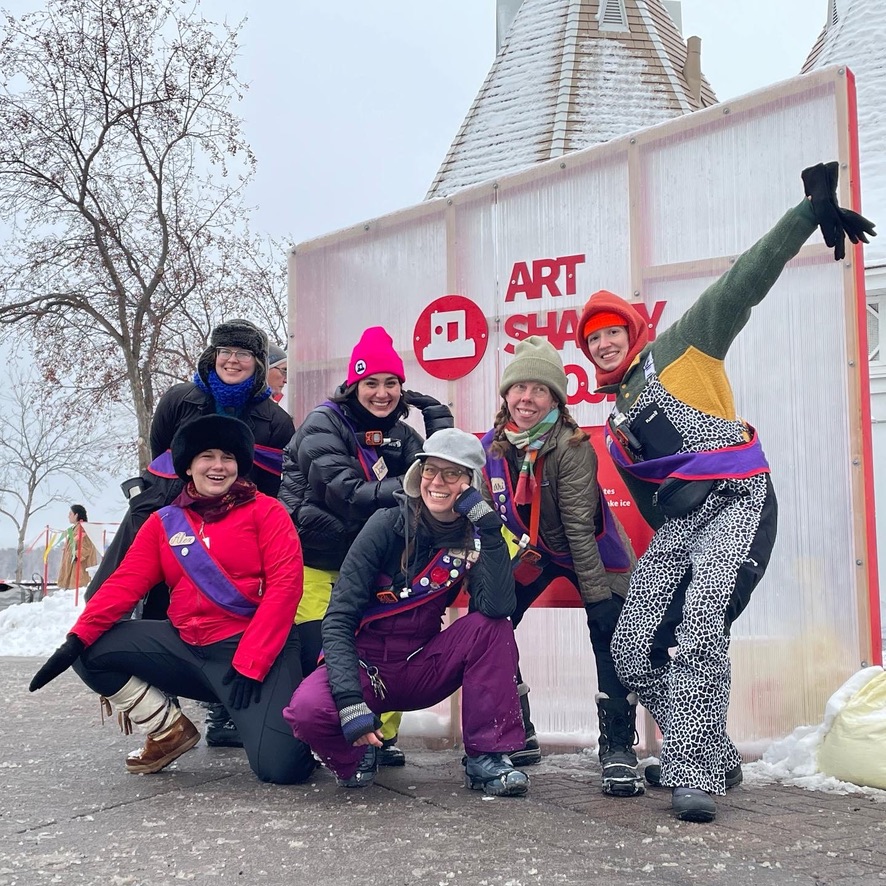 The application period for our Operations Director position closed on May 16. Thanks to all who applied! 
Join our team! We're hiring an Operations Director!
It's an exciting moment to join our joyful, badass, resourceful crew as we head into our 20th Anniversary season.
Ideal candidates have operations and production experience, a collaborative working style, a love and comfort for being outside in winter, a passion for people and public art, a flexible attitude, a willingness to creatively solve problems on the fly, and an interest in working towards non-hierarchical, equitable systems.
This job is a year-round, part time, contract position. Expect lighter hours in the spring and summer, a ramp up in fall, and full time commitment during the winter program. Full job description below!
Much love and gratitude for Kerri, our current Operations Director, as she moves on to other things in life. She will be training in the new OD – and handing off her detailed, organized, smartie notes and records for an easy transition.
What artists have said about our staff members:
"I was continually impressed by the staff's optimism and resourcefulness!"
"Production prowess! Patience, calm, kindness, flexibility, enthusiasm"
"All of ASP staff did such a delightful job! Everyone's enthusiasm and dedication to this project is really inspiring"
"Smashin' fashion and super-human organizational skills"
"I felt a spirit of joyous collaboration from each of you. I felt so welcome and valued every time I showed up, and I felt like figuring out logistics didn't seem to ruffle anyone's feathers. You were always ready to help me figure out timing, location, etc. with a jolly smile and good humor"
Sound like you'd fit in with this team? APPLY! Full job description details below! Applications due May 16
Photos, from left to right: Kerri, our current Operations Director, plays with the Curious Cairns at ASP 2023. Our 2022 staff members lay in snowflake formation on the frozen lake.
Art Shanty Projects: Operations Director
Send a resume and letter describing your interest in the role in an email to recruitment@artshantyprojects.org by May 16
About Art Shanty Projects
Art Shanty Projects intentionally creates an impermanent art village on Minnesota lake ice amid changing climate and environment. With a spirit of embracing challenges through creativity, we support an ecosystem that inspires everyone to create and participate in art, thrive in winter, and build community. Entering our 20th anniversary season, Art Shanty Projects is a non-profit organization dedicated to fostering a creative, supportive, and joyful community both on and off the ice in Minnesota. We accomplish this through art and relationship-building, as well as an ongoing commitment to diversity, equity, inclusion, and accessibility. We expect a culture of work-sharing, accountability, and transparency, as well as effective communication and collaboration. Leadership is non-hierarchical and decision-making is horizontal.
Since 2004 Art Shanty Projects has created joyful winter art experiences for people of all ages. Inspired by pop-up ice fishing villages, artists use the frozen lake as a space to build a temporary community, immersing visitors in a colorful village filled with interactive installations and performances. With few regulations and no building codes — and against intense and unpredictable winter weather conditions — artists of all career stages have the freedom and challenge to create wild and wonderful work that can't be experienced anywhere else. Together, with tens of thousands of annual visitors, we celebrate, champion, and embrace the extreme winter sport of art making.
Position Overview
The Operations Director is responsible for the administrative operating functions and on-ice logistics of Art Shanty Projects, and is charged with administering all affairs of the organization in cooperation with the Artistic Director and Board. This includes ensuring ongoing programmatic excellence, rigorous program evaluation, and consistent quality of finance and administration, communications, and systems.  
The Operations Director (OD) works closely with the Artistic Director to ensure operations and programming are integrated in the support of a vibrant and successful festival. The OD works with Board members to provide support for collaborative projects and ensures everyone has the tools and information necessary. The OD oversees the workflow of the Production Team in collaboration with the Artistic Director and provides monthly reports to the Board. They provide behind-the-scenes work that serves to build a joyous and functioning community on the ice.  
On-Ice Program Responsibilities
Hire and and train contracted program personnel in collaboration with Artistic Director and execute contracts as needed

Oversee logistics for all aspects of the on-ice program to ensure a smooth running festival

Obtain all required permits and insurance for the on-ice event

Coordinate survey evaluation of On-Ice Program for artists, visitors and staff in collaboration with Artistic Director

Work outdoors in potentially extreme winter weather conditions for six consecutive weekends (and some weekdays) during January and February, approximately 8 hours per day
Ongoing Duties and Responsibilities
Operations and Administration
Administration of organizational email and collaborative online workspace accounts

Contribute to website updates

Support development, maintenance, and implementation of organizational policies, procedures, and training

Act as liaison between board and staff

Create Directors Reports in collaboration with the Artistic Director in advance of monthly Board meetings to summarize current activity

Attend and actively participate in monthly board meetings (4th Tuesdays, occasional workgroup meetings, and annual Board Retreat)

Attend weekly directors meetings; co-lead, with Artistic Director, regular staff meetings (seasonal)

Oversee the workflow of the Production Team alongside Artistic Director

Maintain relationship with Park Board and other partner entities

Manage snail mail, as needed (P.O. Box located in NE Minneapolis)

Act as accessibility coordinator: update the Access Plan annually (with support of the Board), respond promptly to accessibility concerns, ensure ongoing accessibility evaluation and improvement

Ensure all decisions made in this role are in alignment with organization's mission, vision, and values
Finances, Contracts, Development
Develop annual budget in collaboration with Artistic Director and Executive Committee. 

Manage the organizational budget, including tracking income and expenses, and ensuring program spending adheres to the approved budget.

Maintain accurate financial records, reconcile monthly, and review monthly report with Treasurer prior to Board meeting.

Work with Treasurer (and bookkeeper) to ensure timely annual tax filing, charitable solicitation reporting, and 1099 mailing.

Execute contracts with selected shanty artists and performers, including collection of appropriate signatures and paperwork prior to pay schedule

Maintain grant calendar, manage the writing and editing of grants with support from board members and staff

Organize, manage, and maintain sponsor relationships and agreements with support from Board members and staff

Act as an authorized signer for the organization: execute contracts and other agreements, and approve payments for all contracted artists and other personnel

Manages acknowledgment of membership gifts in collaboration with Board members and reporting in conjunction with Artistic Director and Production Team.
Skills 
We prioritize transferable skills, whether through life experience, formal and informal education, or other avenues; please consider applying even if you do not have every one of these skills.
Highly organized with great attention to detail

Ability to manage multiple projects, timelines, and overlapping deadlines independently

Ability to work collaboratively on tasks and projects

Enthusiasm about working with and managing people and projects

Grant writing, production, and bookkeeping experience 

Familiarity with or eagerness to learn Google Workspace suite, Quickbooks, Adobe Sign and Acrobat, WordPress, Mailchimp, and Asana
Additional Details – timeline, compensation, location, requirements
This is a contracted position beginning June 19, 2023 and running through June 2024 with possibility for renewal. Compensation is $32/hour, with an expectation that over the term of the contract the Operations Director will work approximately 800 hours. This position requires varied evening and weekend requirements, as well as the ability to perform duties in winter weather conditions.
This position prioritizes in-person meetings and production work at varied locations throughout Minneapolis. The festival takes place in-person at Bdé Umáŋ / Lake Harriet in South Minneapolis. Some meetings may take place virtually. Note: we do not have an office and independent work is expected to be done from home. Candidates must have their own computer and reliable transportation.
To apply, send a resume and letter describing your interest in the role in an email to recruitment@artshantyprojects.org by May 16. Interviews will take place the weeks of May 22 and May 29. 
Art Shanty Projects is deeply committed to social, racial, gender, and economic justice. We heartily encourage people of color, Indigenous folks, LGBTQIA2S+ individuals, and those who are unemployed or underemployed to apply.