A letter to the community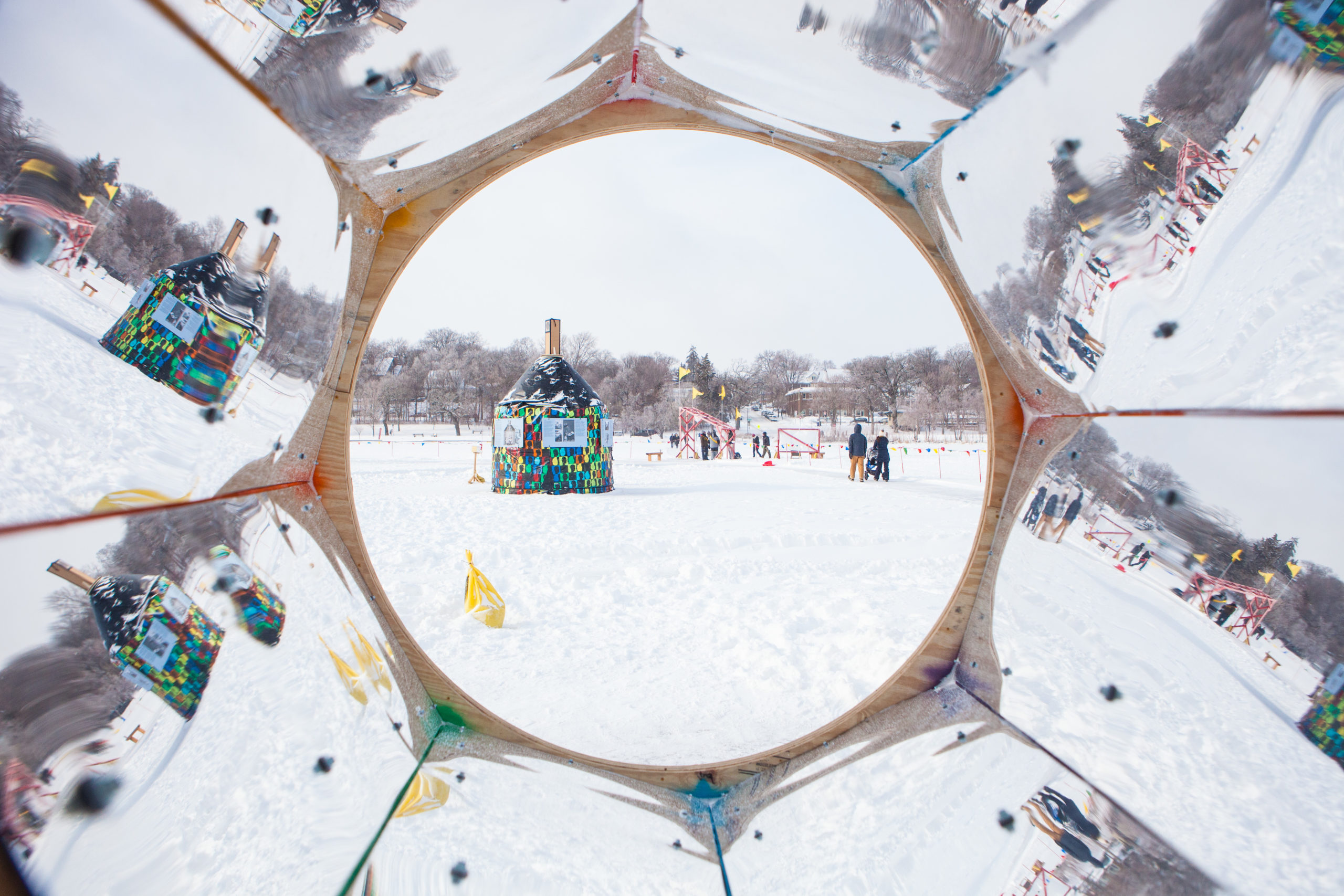 Dear friends,

As we are in the midst of the pandemics of COVID-19 and racism, and as public life, health, and art in our beloved city are continuing to shift and change in unpredictable ways, we wanted to share some updates with our shanty community.

We had a wildly wonderful return to the ice this past winter—with incredible art, successful fundraising, and a lot of (perhaps invisible) internal work to develop more intentional systems and practices by an entirely new staff (ourselves included!). Shortly after finishing our wrap-up work in early March, the pandemic quickly hit the arts community hard. The timing of this did not immediately or critically affect Art Shanty Projects, and we consider ourselves lucky for that! Yet, due to COVID-19, we've made the decision to cancel our 2021 program. The safety of our community—artists, staff, visitors—is our top priority in making this decision. As we learn more about COVID-19 while it continues to unfold, and consider how public events will have to shift in coming months if not years, we plan to reassess our program with community input and return in 2022.

We are also outraged and devastated by the unjust killing of George Floyd, and we stand in solidarity with our BIPOC artists, neighbors, and community as our city imagines and rebuilds a more just and equitable society. We recognize our responsibility as a white-led organization to assess our own structures and programming and to continue to work toward a more equitable organization. We are presently inspired by the BIPOC-led conversations regarding the street art that has sprung up organically in the current uprising, and we are taking this time to internally assess our own programming and role in the local public art scene. This work is certainly not new to us as staff members, but now more than ever we see it as a vital part of our work that cannot be separated from the rest of Art Shanty Projects.

While we are sad to cancel our 2021 program, we are excited to take this opportunity to shift from an external program to an internal one—with a focus on equity, accessibility, and financial sustainability—over the upcoming year. Minneapolis is bound to change and shift during this period in ways we cannot predict. We look forward to working within community, and returning to the ice in 2022.

We do hope you will take the time to read our 2020 report below, assembled by board and staff, as well as the FAQs on our cancellation and a more detailed description of our internal 2021 program year.

Most sincerely,


Erin Lavelle
Artistic Director
Arlo Sombor
Operations Director

2020 RECAP & REPORT

Thank you!
We are so grateful for the energy and work that artists, volunteers, board members, and staff put in to support a wildly fun and successful return to the ice! We're grateful for all our audiences, and for individuals who supported us with memberships and on-ice donations. And of course we couldn't do it all without our sponsors who offered both in-kind and financial support. Much love to you all.

Artists
We had 22 shanties and 12 performance groups this year, featuring more than 100 artists. Nearly half of the artist teams were new to the shanties, and several individual artists reported that they had never been on a frozen lake before!

Attendance
Our official audience count was 27,000. We are confident that with the new perimeter and gate, this is a more accurate count than in previous years when it was often impossible to monitor from all sides. From our perspective it felt as vibrant and busy as in 2018!

On-Ice Donations and Impact
As the festival has grown to serve more visitors, our budget has simultaneously increased—it takes money/resources/staff to serve 27,000 people!

To support this, we implemented a new on-ice fundraising plan (gate + perimeter + direct invitation to give), which was a huge success. We were delighted to work with scottie hall, who created the new plan, and Andrew Young, who designed and built the artful gate and perimeter. We are pleased to announce that we raised $63,000 in donations on the ice. With an annual budget of nearly $160,000 this year, these donations are approximately 40% of all income. The funds were directly applied to 2020 expenses to help cover artist and staff payments, as well as production and operating costs of the festival. The rest of our income sources include grant funding, sponsorships, membership contributions, food vendor fees, and merchandise sales.

The success of this plan has ensured a future for Art Shanty Projects. We will continue to request donations at the gate in future years and include this in our budget projections and fundraising plans moving forward. Amidst the landscape of many other local organizations who have had to similarly pause programming (or even close indefinitely) to reconsider financial sustainability in the past few years, we are very proud and grateful that our strategy worked and that visitors showed such generosity. To be fully transparent, if we had not reached our goal in 2020, we would most likely not be planning another on-ice season again, regardless of COVID. It was a make-it or break it moment. On-ice donations are a critical piece of our long-term organizational wellbeing.

Equity, Accessibility, Sustainability Initiatives
Our new Directors worked intentionally to implement new practices grounded in equity, accessibility and sustainability for staffing, artist outreach and selection, and production logistics.

This season our three-person production team was 100% IPOC (Indigenous and People of Color) and FTW (Femme, Trans, Women) and we hired IPOC artists for additional contract positions (gate design/build; graphic design; documentation). We also began outreach work in an effort to strengthen and develop relationships with artists and organizations who have previously not presented work on the ice with us. This included distributing the artist call in broader community networks, making sure our selection panels included BIPOC and FTW jurors, and working with partner organizations, including zAmya Theater and Better Futures Minnesota.

For the first time ever we offered ASL interpreters and audio describers EVERY DAY of our programming and we were happy to see these services utilized. With the support of one of our shanty teams (thank you, Rocky the Rockin' Sea Shanty!), we enhanced our fleet of kicksleds for the season and were able to better transport folks around on the ice. We also worked with an accessibility consultant, Caidin Riley (IDEAS, LLC), to train staff and board, assess our current accessibility plan, and to make recommendations for further development.

Directors worked with students from the University of Minnesota Leadership Minor program to research sustainable resources, survey our shanty community, and propose information for a sustainable building guide for future artists. Extinction Rebellion also chose the shanty village as the site for the local meditation mob that was part of a national effort to raise awareness on the climate crisis. As far as we know, this was the only action done on a frozen lake!

2021 EXTERNAL CANCELLATION & INTERNAL PROGRAMMING

Due to COVID-19, we've made the decision to cancel our 2021 program.

Why cancel? The safety of our community—artists, staff, visitors—is our top priority in making this decision. Our work relies on the interaction between people in small, enclosed structures that are not conducive to social distancing, and we have no access to running water for proper hand washing on-site. Frankly, we think it would be irresponsible to plan a public gathering for thousands of people per day.

What about an alternate format? After much consideration, we have determined it would not align with our mission to produce a virtual event and at this time we do not wish to alter the format on the ice (we don't want to take the 'shanty' out of Art Shanty Projects).

But it's only July—why decide so soon? We are making this decision (and making it now) in an effort to be responsible with funds, resources, and relationships. Our staff and board members work year-round to plan for the annual on-ice program. Normally at this time we would be distributing and advertising our call for artists, assembling juries, obtaining permits, and hiring new production staff. While public health is the motivating factor in making our decision to cancel, money factors into the timing of this decision, knowing that there is a financial risk in continuing to prepare for a program that in all likelihood could get cancelled eventually due to an expected spike in COVID-19. We also respect artists, and would not ask them to invest energy, materials, and their stipends toward a program that has a real probability of getting cancelled – nor would we ask them to risk their own health during the months-long building process that leads up to the event.

So, what happens now? Though staff hours will be reduced, the organization will not shut down operations completely. We have decided this year that we will shift our focus from external to internal programming, with board and staff working on equity, accessibility, and financial sustainability. Taking the time to do this work will make Art Shanty Projects a stronger, better organization when we return to the ice. This is continuation of work that we have already been doing.

What does that look like? Great question!

This past year the Equity Committee on our board worked with a consultant, Julie Bates MacGillis, to assess equity as it relates to our leadership structure, and specifically our board recruitment practices. We are grateful for the MRAC Management Consulting Fund for supporting this initial step. While we're still planning the best way to implement these recommendations, we expect to begin by reviewing our mission and values statement this fall.

Our Artistic Director will continue to engage in community discussions arising around public art and equity, and consider how our programming model can and should shift to become more equitable. She will continue to build relationships with BIPOC organizations and artists, working with current partners as well as initiating new relationships in this process.

We are happy to have just received another Access Improvement grant from MRAC, and our staff will use those funds to extend the accessibility work that we began last winter. This includes evaluating and improving our accessible building resources for 2022 shanty artists, adding 4 kicksleds to our fleet for use by future artists and visitors, and ensuring the website and all social media are accessible.

In the wake of a financially successful year, the board and staff will also continue to revise our long-term development plan. So many questions are coming up for arts organizations around fundraising. We are currently asking: What does development look like during a pandemic? And what about after? How will grants, sponsorships, and community contributions change? We plan to take some time to begin answering these questions, so we're ready to plan for our next on-ice season.

STILL HAVE QUESTIONS?

Please feel free to reach out if you have any additional questions on our 2020 season or our 2021 cancellation and internal program year.
If you're not sure who to contact, email any of us and we will redirect the message to someone who can best answer your question.