Visit
Saturdays and Sundays
January 15 – February 6, 2022
10am-4pm
Bde Unma / Lake Harriet –  Minneapolis, MN
The festival is on the frozen lake on the northwest corner of Bde Unma / Lake Harriet in Minneapolis, MN.
We are operating in an urban winter environment where parking is limited. We encourage carpools, biking, walking, skiing, skating and using public transit to get to our event!
For those driving to the event, there is a small paid parking lot on the northwest side of the lake, as well as free street parking spots around the parkway that circles the lake.
NOTE: The other pay lot north of the lake is reserved for artists and staff and is marked as such. Please respect their need to use it so they can present our programming! Any cars without a permit are subject to towing. If you have any questions about parking when on site, please ask a volunteer or staff member.
Please be mindful that this is a neighborhood and respect that we are sharing the streets with residents and businesses.
People-powered transportation contest!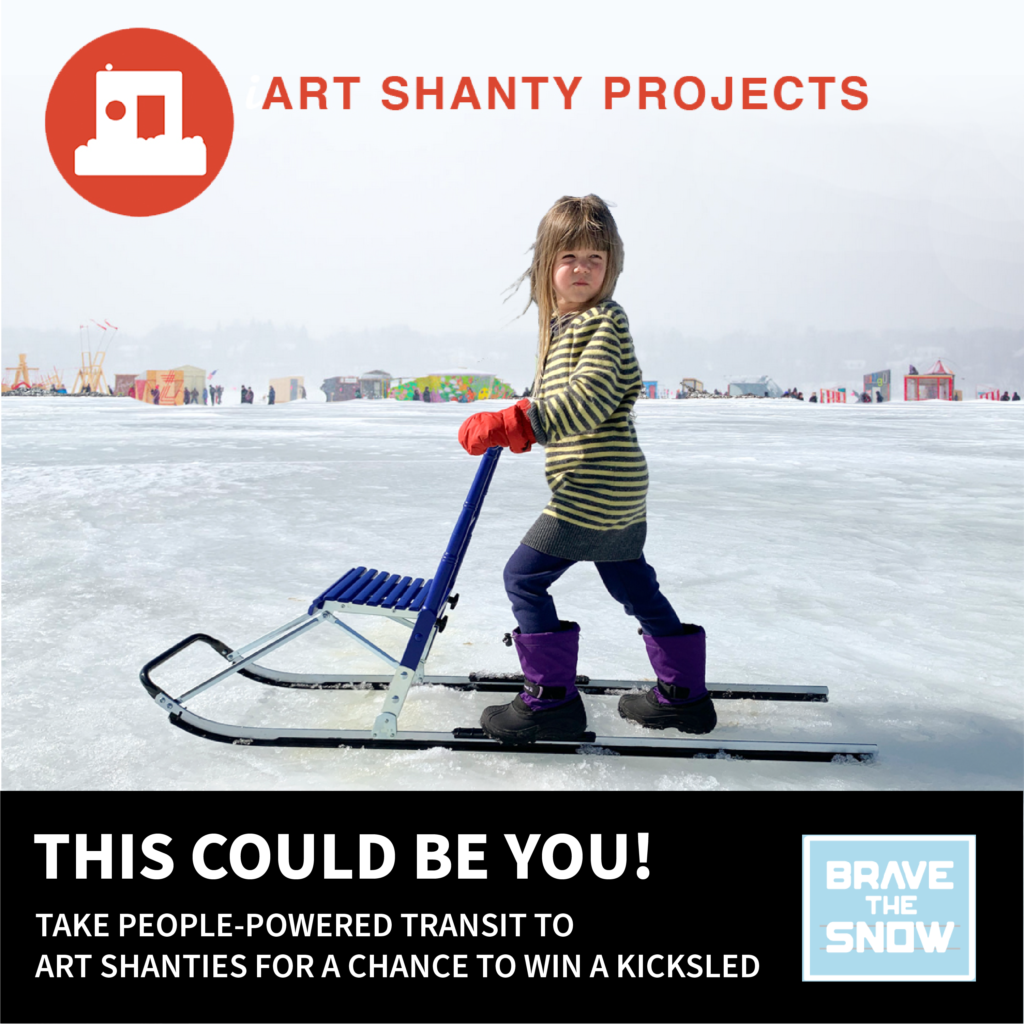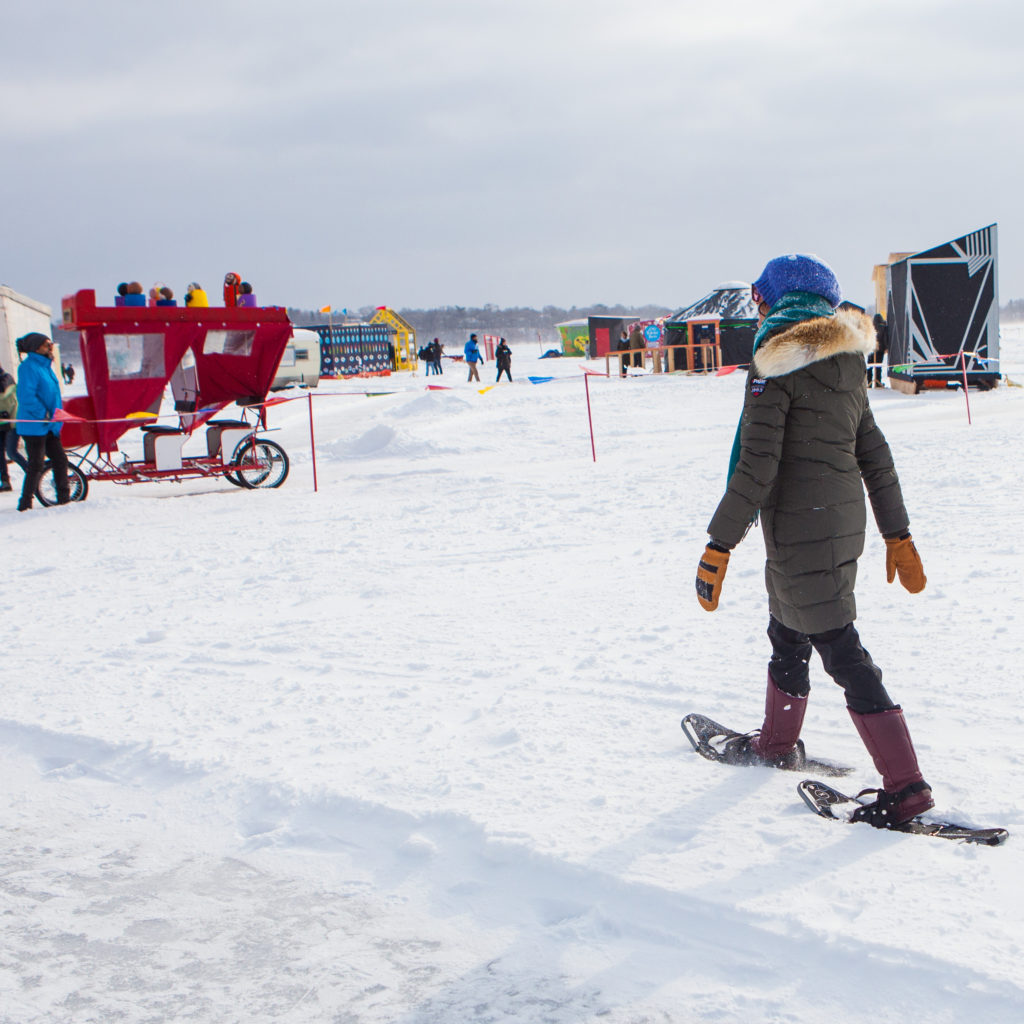 In an effort to encourage alternate forms of transportation, we're excited to announce that we have a contest for anyone who chooses to take people-powered transit to our event! One lucky creative winter adventurer will win a kicksled from our friends at Brave the Snow. These kicksleds are slick, sleek, and foldable – very easy to store or carry around! 

To enter the drawing:
Take a pic of yourself using people-powered transit (non-motorized) to get to the 2022 Art Shanties (bike / snowshoe / ski / walk / dance / pull or get pulled on a sled / windsail / etc) any of the first three weekends (Jan 15, 16, 22, 23, 29, 30). Make sure you can see the festival happening in the background of the pic as you approach.
Post it on Instagram by January 31 with the hashtag #peoplepoweredart and tag

@artshantyprojects

.
We will select and announce ONE lucky winner by February 2. You can pick up your kicksled at the closing weekend of our event, Feb 5 or 6.
(2022 artists, board members, volunteers and staff are not eligible for this contest).
Ride the Shuttle on Kite Fest Day (January 22) !
We're sharing the lake with the Winter Kite Festival on January 22! This joint event always attracts large crowds, so plan to give yourself extra time to arrive. 
This year there is a FREE shuttle to help ease traffic congestion on January 22 for Kite Fest Day.
The shuttle departs from the Executive Building parking lot on the west side of Bde Maka Ska (3033 Excelsior Blvd, Mpls). It runs run from 11am – 5pm on this one day only.
NOTE: the parking lots at Bde Unma / Lake Harriet will NOT be available on this date. Limited parking is available around the lake and in the neighborhood for those arriving in the morning before the shuttle starts running.
Closest bus stop is the 6. Get off at the Richfield Rd & William Berry Pkwy stop. Head down William Berry Pkwy to Lake Harriet Pkwy (a .5 mile walk).
Art Shanty Projects is a joyful expression of public art, and we have a commitment to prioritize public health in our operations. In the spirit of abundant caution and love for our community, we are offering an EXTERIOR-ONLY EXPERIENCE for visitors this year.
All shanties can be engaged with from the outside or in the open air (no going inside the shanties this year).
We're putting more space between projects so you can keep your distance.
Hot food and beverage vendors will be on shore daily, but no food or drink is allowed in the village.
Keep safe & warm! We strongly encourage everyone to wear a mask!
All staff members and volunteers are required to be vaccinated.
For more info on how we made these decisions, check out our Covid Safety page.

UPDATE: The City of Minneapolis has a mask mandate in effect for any indoor businesses beginning Thursday, January 6, and people will be required to show proof of vaccination or negative test result beginning Wednesday, January 19 for indoor eating and drinking establishments. Being an outdoor event, these mandates do not affect us, however, we STRONGLY ENCOURAGE everyone in the shanty village to stay safe & warm and wear a mask. This will help keep you, our shanty community, and the public safe. It's a respectful act towards our artists, and helps ensure we can stay open while many events are having to pause at this time.
If you are planning to venture to neighborhood businesses before or after your visit, plan to mask up. If you plan to go to an eating or drinking establishment, be prepared to show proof of vaccination (paper card, photo, or on an app) or a negative test result (from a lab within the past 72 hours).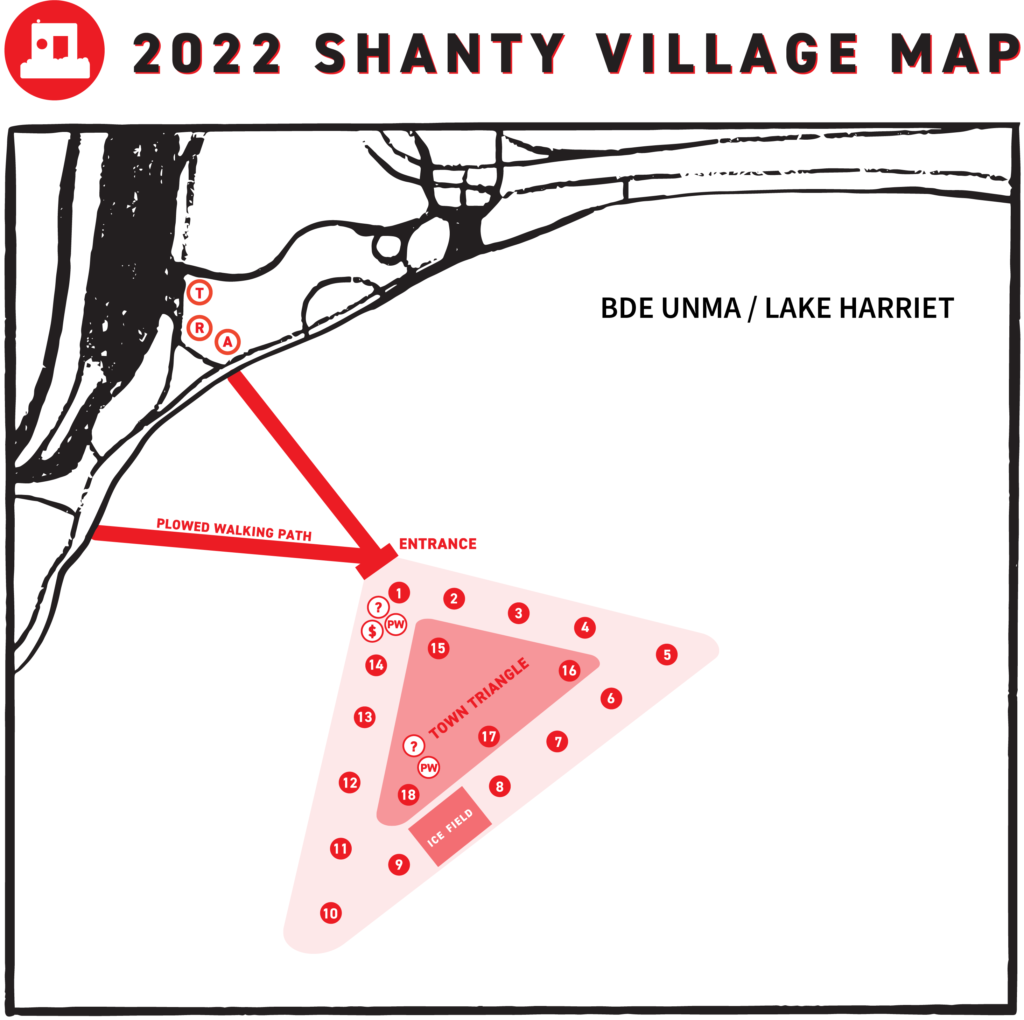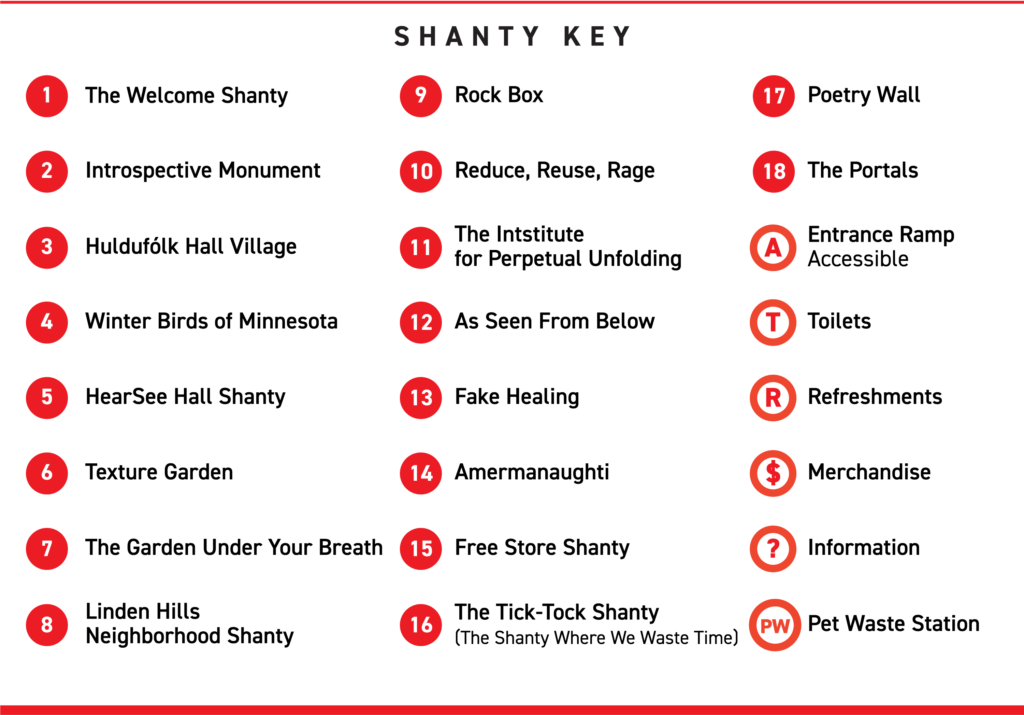 To reach the gate, there are two plowed paths that will direct you towards it. Leave shore from either the path on the west side of the lake near 42nd Street, or the north side of the lake near Bread & Pickle. This location is also the kicksled stop – so if you would like a ride, just wait for the next attendant! They may already be escorting someone out.
ASL interpretation and audio description are available from noon – 3pm daily (and until 4pm on Kite Fest Day, Saturday, January 22). Meet at the Welcome Shanty and we will connect you with your guide!
Kicksleds are available to transport folks with limited mobility onto the ice and throughout the village. One is equipped to accommodate a wheelchair. Meet at the Kicksled Stop in front of Bread & Pickle where staff and volunteers will greet you and escort you onto the ice. If you would like a ride and nobody is there, just wait for the next attendant! They may already be escorting someone out but they'll be back shortly.
There are two ramps to the lake in front of Bread & Pickle to make it easier for everyone to get on the ice. At these ramps there is a plowed path leading to the welcome gate.
NOTE: There is a second plowed path near  42nd Street that leads towards the gate – be prepared for a big step down to the ice here (no ramp).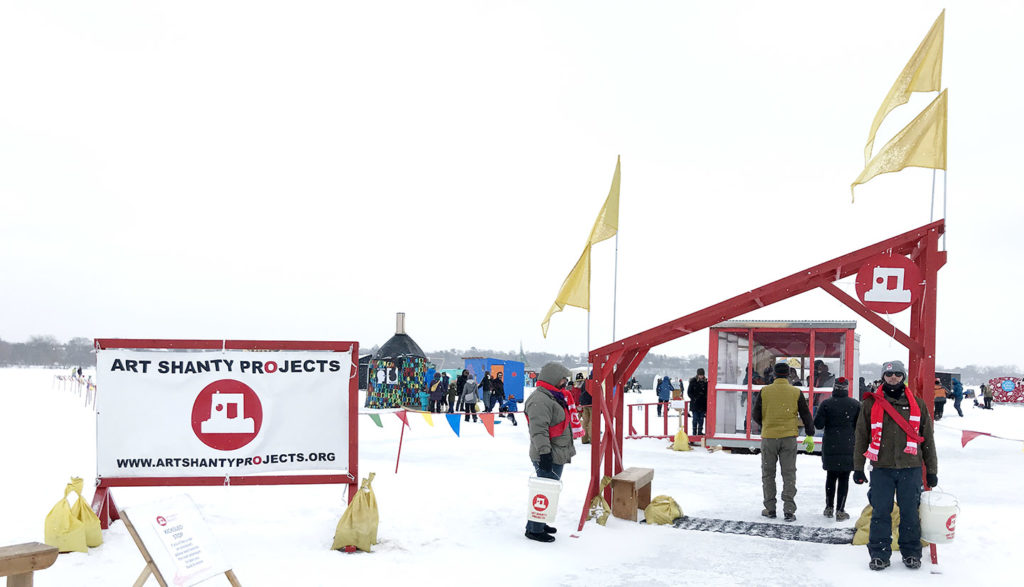 We will again be welcoming visitors into the village through an artist-designed entrance gate. Look for a red arch with fluttering yellow flags. When you reach the gate, we welcome donations to support artists + staff and to keep this beloved winter festival sustainable for years to come. We cannot do this without the public's help! Suggested donation is $10-20. No one turned away! All are welcome.

Cash is the quickest and easiest option for everyone in the cold – but we are also happy to take credit cards and Apple Pay.
Shanties are active from 10am – 4pm during each festival day. Performances + art actions happen within the village at scheduled times. 

Check out the schedule here!
Food and hot beverage vendors are on shore daily from 10am – 4pm.
With COVID safety in mind, we request that all food and beverages be consumed on shore and not be taken into the shanty village.
 
Saturday, January 15: KCM Eggrolls, Taqueria el Victor, The Wandering Mug
Sunday, January 16: D&D Goodies, The Wandering Mug
Saturday, January 22: K-Town Street Foods, Taqueria el Victor, The Wandering Mug  + additional vendors at Kite Fest
Sunday, January 23: K-Town Street Foods, The Wandering Mug
Saturday, January 29: KCM Eggrolls, The Wandering Mug
Sunday, January 30: K-Town Street Foods, The Wandering Mug
Saturday, February 5: KCM Eggrolls, The Wandering Mug
Sunday, February 6: KCM Eggrolls, The Wandering Mug
This is Minnesota, and the weather on the lake can be especially fickle! This is, of course, all part of the fun and adventure of Art Shanty Projects.
Be prepared for snow, wind, wet and/or slippery surfaces, or even rain. We recommend dressing in layers (and if you can, have a wind breaking layer on the outside) and wear boots with thick soles (the surface of the icy lake is much colder than walking on the street). Waterproof options are best! Compression socks work remarkably well to keep feet warm! If you have traction cleats for your boots, bring them!
We do regular ice checks for ice safety, and if the weather turns too warm there is always the potential that the shanty village will be moved to shore. If this is the case, we will update the website and social media to announce it. (If you're reading this message now, we are still on the ice!).
The festival is usually busiest on the warmest and sunniest days, as well as January 22nd when we share the lake with the Kite Festival. Mornings are usually quieter than afternoons. 
We understand the joy of bringing your pets with you onto the ice! We ask that you keep the lake (and the art!) clean by picking up after pets. We have a pet waste station located in the Town Triangle and one outside the Welcome Shanty. BYO bag, though some are provided for your convenience if you forget.

PSA about dogs + public art in particular:

Well-behaved, socialized dogs (accompanied by mindful humans, tethered by a leash) are welcome in the shanty village. THAT SAID, there are a lot of strange sights and sounds at our program that might stress your doggo out. And that's not good for anyone. If you're not sure how your pooch will react to things like music, odd antics, strangers, costumes, crowds, physical activities, colorful art and other dogs, please consider leaving them at home.