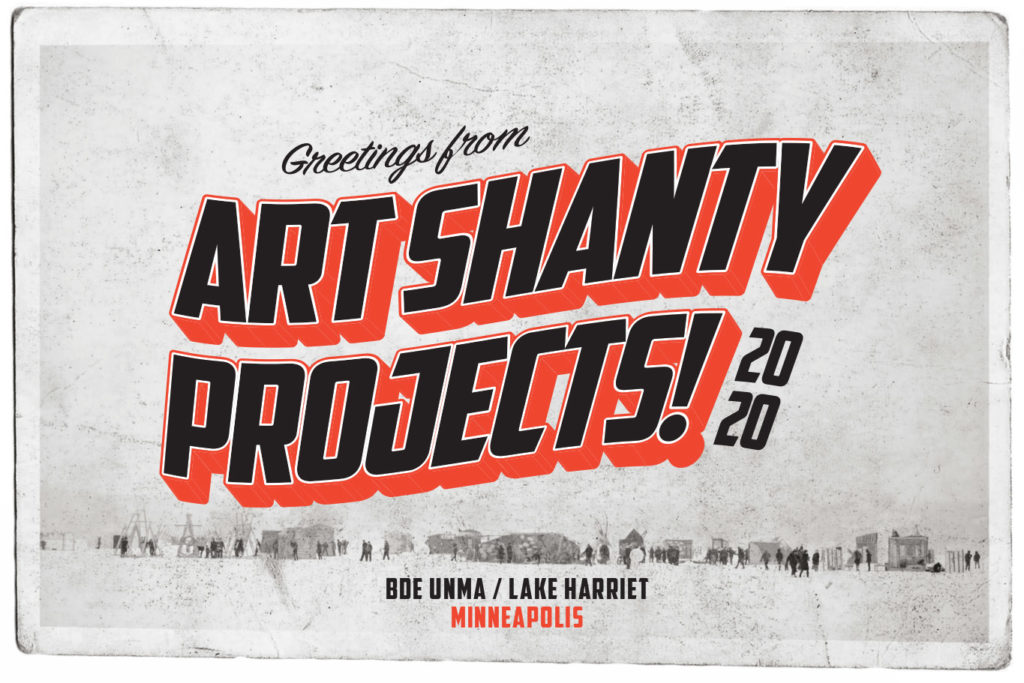 Saturdays and Sundays, 10am-4pm, January 18 – February 9
Bde Unma / Lake Harriet – Minneapolis, MN
Getting There
The festival is on the frozen lake on the northwest corner of Bde Unma / Lake Harriet in Minneapolis, MN.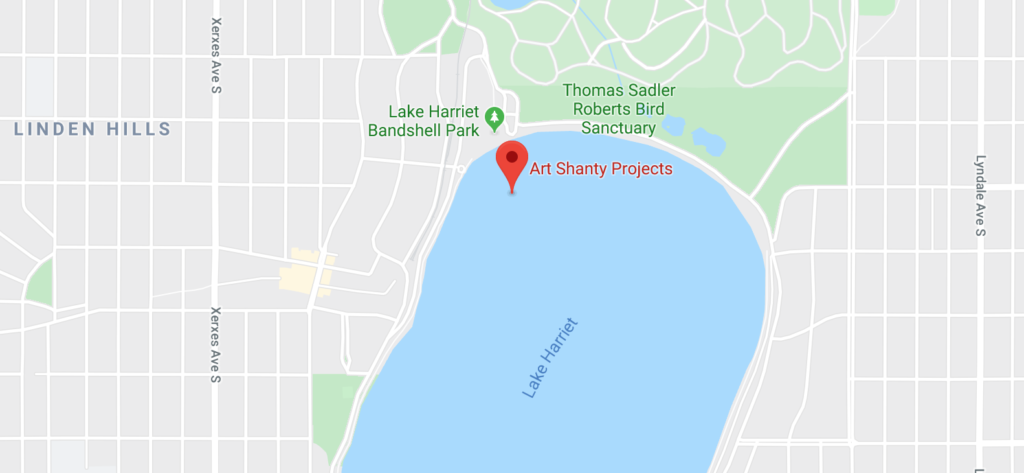 Closest bus stop is the 6. Get off at the Richfield Rd & William Berry Pkwy stop. Head down William Berry Pkwy to Lake Harriet Pkwy (a .5 mile walk).
We are operating in an urban winter environment where parking is limited. We encourage carpools, biking, walking, skiing, skating and using public transit to get to our event!
Donation Suggested!
When you reach the gate, we welcome donations to support artists + staff and to keep this beloved winter festival sustainable for years to come. We cannot do this without the public's help! Suggested donation is $10-20. No one turned away! All are welcome. Cash is the quickest and easiest option for everyone in the cold – but we are also happy to take credit cards.
Got questions about donations? Check out our Donations FAQ!
TIP: If you become a member in advance you can keep your mittens on at the gate! https://artshantyprojects.org/membership/
Parking
For those driving to the event, there is a small paid parking lot on the northwest side of the lake, as well as free street parking spots around the parkway that circles the lake.
NOTE: The other pay lot north of the lake is reserved for artists and staff and is marked as such. Please respect their need to use it so they can present our programming! Any cars without a permit are subject to towing. If you have any questions about parking when on site, please ask a volunteer or staff member.
Please be mindful that this is a neighborhood and respect that we are sharing the streets with residents and businesses.
Event Map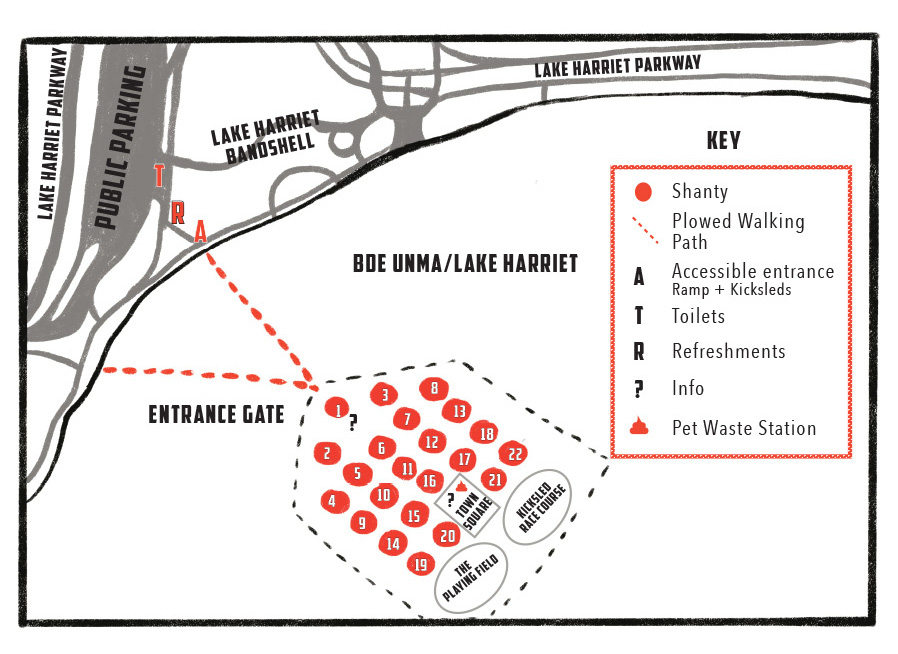 Getting On The Ice
This year we will have a NEW artist-designed entrance gate that welcomes visitors into the village. Look for a red arch with glittering gold flags. To reach the gate, there are two plowed paths that will direct you towards it.
Leave shore from either the on the west side of the lake near 42nd Street, or the north side of the lake near Bread & Pickle. This location is also the kicksled stop – so if you would like a ride, just wait for the next attendant! They may already be escorting someone out.
Accessibility
Daily tours leaving from Welcome Shanty:
ASL interpretation 11:30am and 1pm, Audio description 11:30am and 1pm.
Kicksleds are available to transport folks with limited mobility onto the ice and throughout the village. Two are equipped to accommodate a wheelchair. Meet at the Kicksled Stop in front of Bread & Pickle where staff and volunteers will greet you and escort you onto the ice. If you would like a ride and nobody is there, just wait for the next attendant! They may already be escorting someone out but they'll be back shortly.
NOTE: (There is a second plowed path leading towards the gate near 42nd Street – be prepared for a big step down to the ice here).
There is a ramp to the lake in front of Bread & Pickle to make it easier for everyone to get on the ice.
Schedule
Check out our schedule of daily performances and art actions!
Crowds
The festival is usually busiest on the warmest and sunniest days, as well as January 25th when we share the lake with the Kite Festival. Mornings are usually quieter than afternoons. During busy times, there may be lines to get in shanties. Dress warmly and enjoy some of the outdoor activities in-between shanty visits!
Weather
This is Minnesota, and the weather on the lake can be especially fickle! This is, of course, all part of the fun and adventure of Art Shanty Projects.
Be prepared for snow, wind, wet and/or slippery surfaces, or even rain. We recommend dressing in layers (and if you can, have a wind breaking layer on the outside) and wear boots with thick soles (the surface of the icy lake is much colder than walking on the street). Waterproof options are best! Compression socks work remarkably well to keep feet warm! If you have traction cleats for your boots, bring them!
We do regular ice checks for ice safety, and if the weather turns too warm there is always the potential that the shanty village will be moved to shore. If this is the case, we will update the website and social media to announce it. (If you're reading this message now, we are still on the ice!).
Food
Food and hot beverage vendors are on shore daily from 10am – 4pm.

SCHEDULE:
Saturday, January 18: The Wandering Mug, Finer Meats and Eats
Sunday, January 19: The Wandering Mug, D&D Goodies, Fair Faves
Saturday, January 25: Peace Coffee, KCM Eggrolls, Fair Faves
Sunday, January 26: The Wandering Mug, K Town Street Foods, Fair Faves
Saturday, February 1: The Wandering Mug, K Town Street Foods, Cafe Cairo
Sunday, February 2: The Wandering Mug, D&D Goodies, Fair Faves
Saturday, February 8: The Wandering Mug, Taqueria el Victor, Fair Faves
Sunday, February 9: The Wandering Mug, Fair Faves
Nearby ATMs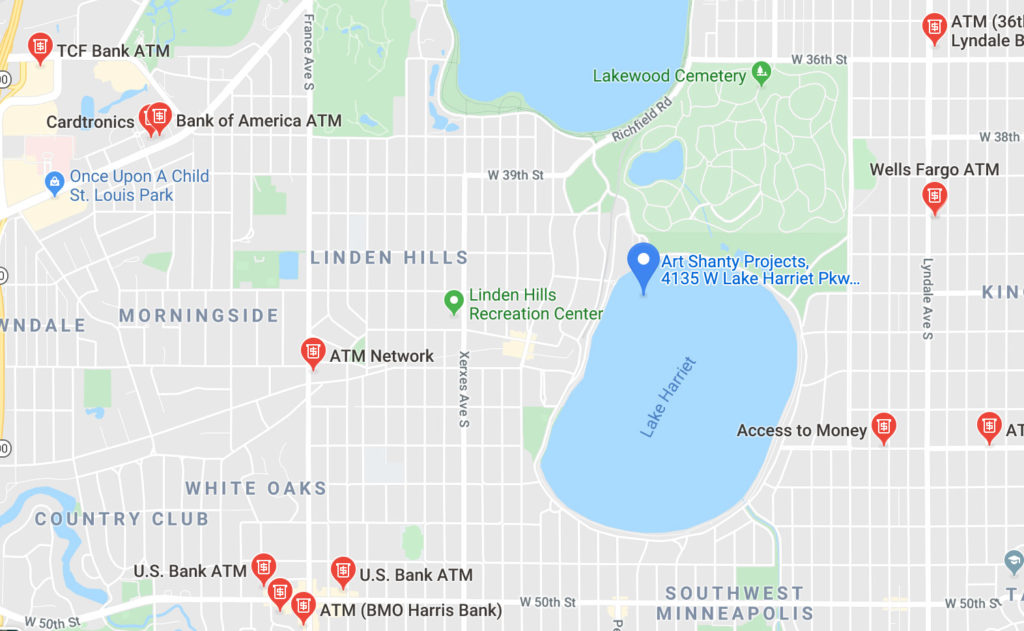 Pets
We understand the joy of bringing your pets with you onto the ice and we ask that you keep the lake (and the art!) clean by picking up after your dog. We have a pet waste station located in the Town Square.