Visit
Saturdays and Sundays
January 21 – February 12, 2023
10am-4pm
Bdé Umáŋ / Lake Harriet –  Minneapolis, MN
UPDATE 1/12/23: Due to rapidly deteriorating ice on Bdé Umáŋ / Lake Harriet, Art Shanty Projects' annual program will be presented as "Plan Beach" this year instead of 'On-Ice."

The festival will take place on land along the lakefront, in Bandshell Park, and in the picnic grounds. Our information hub is located near the Bandshell parking lot and Bread & Pickle.
We are operating in an urban winter environment where parking is limited. We encourage carpools, biking, walking, skiing, skating and using public transit to get to our event!
For those driving to the event, there is a small paid parking lot on the northwest side of the lake ("Bandshell Lot"), as well as free street parking spots around the parkway that circles the lake.
Please be mindful that this is a neighborhood and respect that we are sharing the streets with residents and businesses.
WINTER PARKING RESTRICTIONS (new, as of 1/26/23)
Minneapolis officials have decided to implement Winter Parking Restrictions to ensure city streets are passable for emergency vehicles, buses and other travelers in the face of heavy snow accumulation this winter. Parking is allowed on Snow Emergency routes, parkways, and the ODD numbered side of non-Snow Emergency routes, unless otherwise posted. Drivers parking in Minneapolis must follow these Winter Parking Restrictions, or they could be ticketed and towed. 
NOTE: The other pay lot north of the lake ("North Lot") is reserved for artists and staff and is marked as such. Please respect their need to use it so they can present our programming! Any cars without a permit are subject to towing. If you have any questions about parking when on site, please ask a volunteer or staff member. They will all be wearing a sash!
Ride the Shuttle on Kite Fest Day (January 28) !
We're sharing space with the Winter Kite Festival on Saturday, January 28! This joint event always attracts large crowds, so plan to give yourself extra time to arrive. 

SHUTTLE:
Once again there is a FREE shuttle to help ease traffic congestion for these joint events. The shuttle departs from the Executive Building parking lot on the west side of Bde Maka Ska (3033 Excelsior Blvd, Mpls). It runs from 11am – 5pm on this one day only. We HIGHLY RECOMMEND that you take the shuttle on January 28!
PARKING IS LIMITED:
Accessible parking spots are available in the Bandshell lot. Other than these accessible spots, the parking lots at Bdé Umáŋ / Lake Harriet will NOT be available to the public and there will be no parking on either side of Linden Hills Blvd from W 43rd Street to W 40th Street.
Limited parking is available around the lake and in the neighborhood for those arriving in the morning before the shuttle starts running.

ICE SAFETY:
While Art Shanty Projects is staying on land (the ice is still not strong enough to support our structures), kite fest will be on the lake. Please use caution, as the ice thickness and conditions are still inconsistent. The MPRB will be marking off areas where the ice is less stable. Waterproof boots and traction devices (like Yak Trax) are recommended!
Closest bus stop is the 6. Get off at the Richfield Rd & William Berry Pkwy stop. Head down William Berry Pkwy to Lake Harriet Pkwy (a .5 mile walk).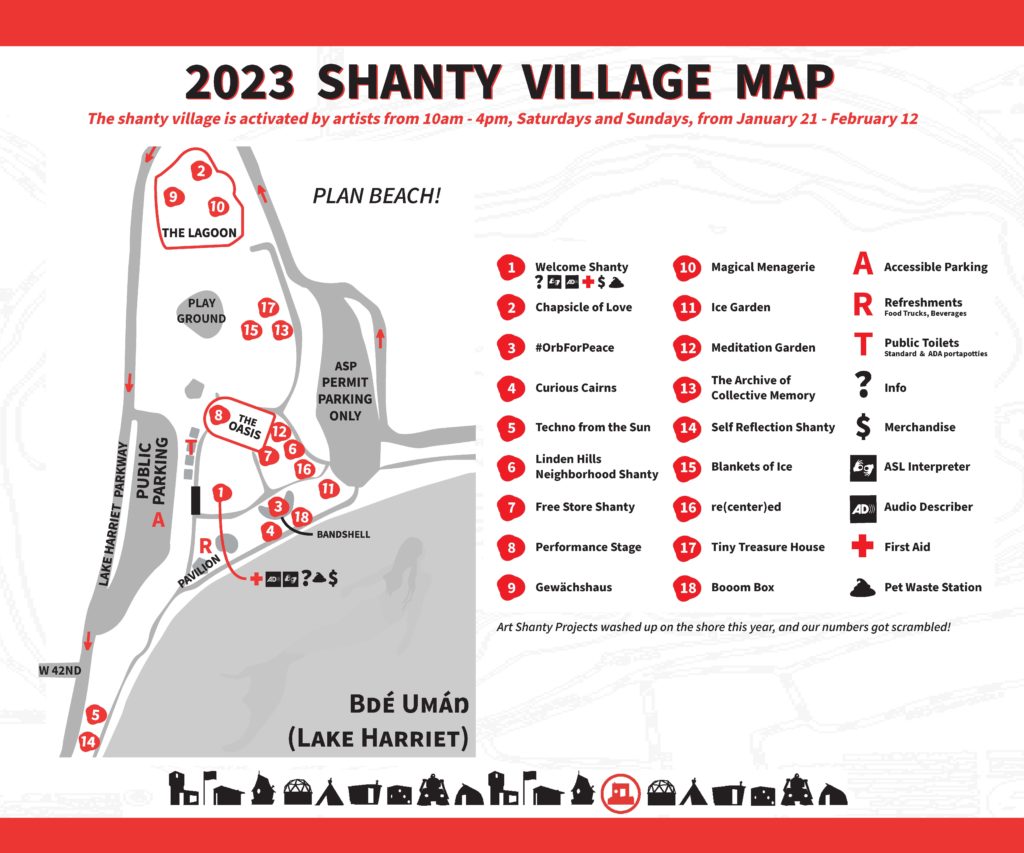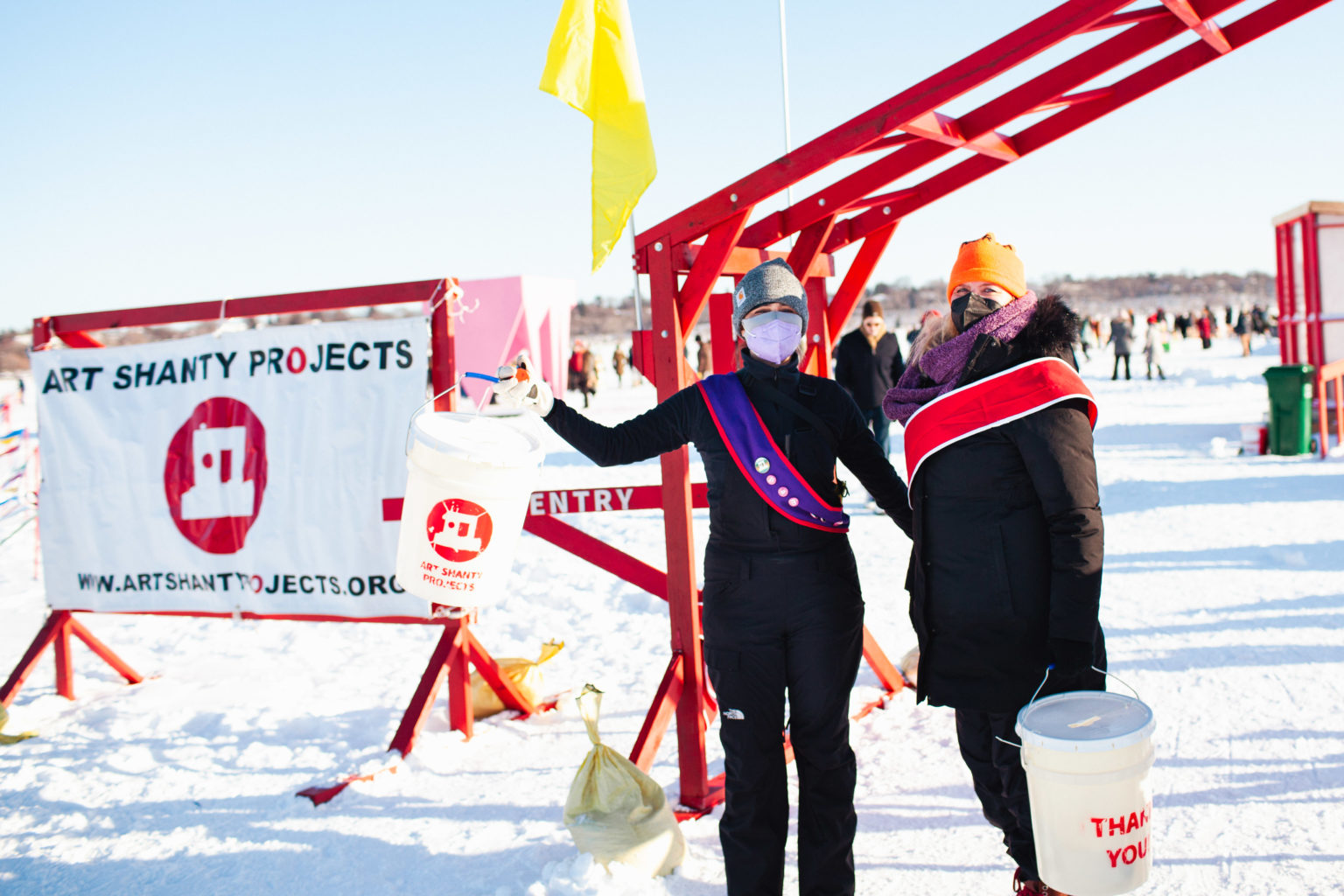 Due to the geography of the park for our Plan Beach enactment, we will not have a singular entrance to the festival. The red arch that previously served as a gate will, however, be situated near the parking lot at Bread & Pickle and we welcome donations to support artists + staff this year and to keep this beloved winter festival sustainable into the future. 
The radical generosity of many makes Art Shanty Projects accessible to all. We are a people-powered festival – individual donations make up 60% of our budget!
Suggested donation: $10-20
Please offer an amount that is meaningful to you.
No one is turned away! All are welcome.
Cash is the quickest and easiest option for everyone in the cold – but we accept credit cards and "tap" with smartphones at the Welcome Shanty near the arch/gate structure.

TIP: 2023 season members (gifts of $24 or more) are invited to special nighttime parties with the artists! If you're a current member, just let us know when you arrive! (Your membership button is waiting for you in the Welcome Shanty.)
Art Shanty Projects embraces the spirit of the Americans with Disabilities Act (ADA) in our commitment to ensuring that all members of our community can participate as fully as possible in our festival. 
Parking: Accessible parking is available to permitted cars in the Bandshell Lot nearest Bread & Pickle.
Paths: Pathways will be plowed throughout portions of the village, as allowed by existing park infrastructure. We acknowledge that with Plan Beach not all projects will be placed in areas that are physically accessible.
Kicksleds – (update 1/18/23) due to the recent warm weather and rain, the park paths do not have enough snow to accommodate our kicksled fleet.  That said, the projects near paved paths are relatively accessible as-is! Stay tuned for possible future options to ride the kicksleds, weather and conditions permitting.
Restrooms: Porta-potties are available near the parking lot, including ADA units.
Sign Language Interpreters & Audio Describers: ASL interpretation and audio description services are available from 11am – 2pm each day of the festival. Meet at the Welcome Shanty near Bread & Pickle and we will connect you with your guide!
Printed Maps: Printed maps will be available with shanty names and relevant accessibility and sensory information.  Ask for one at the Welcome Shanty!
If you have accessibility needs, questions or requests, please contact Kerri in advance of festival days (weekdays are best!) at info@artshantyprojects.org or 612-567-8644. 
Shanties, Performances + Art Actions
Hot food and beverage vendors are at the festival daily from 10am – 4pm. They are situated near the Bread & Pickle building (B&P is closed for winter). Enjoy lakeside dining at the picnic tables on the patio!
SCHEDULE:

Saturday, January 21: KCM Eggrolls, Taquería El Patron, Wandering Mug
Sunday, January 22: KCM Eggrolls, Wandering Mug
Saturday, January 28: Taquería El Patron, Wandering Mug (+ vendors the MPRB is providing for Kite Fest)
Sunday, January 29: KCM Eggrolls, Wandering Mug
Saturday, February 4: D&D Goodies, Habanero Tacos, Wandering Mug
Sunday, February 5: D&D Goodies, Wandering Mug
Saturday, February 11: D&D Goodies, Wandering Mug, Youniverse Foodie Waffles
Sunday, February 12: D&D Goodies, Wandering Mug, Youniverse Foodie Waffles
Public Art + Public Health
Art Shanty Projects is a joyful expression of public art, and we have a commitment to prioritize public health in our operations. In the spirit of abundant caution and love for our community, we are offering an EXTERIOR-ONLY EXPERIENCE for visitors again this year.
All shanties can be engaged with from the outside or in the open air (no going inside the shanties this year).
We're putting more space between projects so you can keep your distance.
Masks are both safe AND warm! We are nurturing a culture of mask-wearing — don't be shy if you want to wear one.
All staff members and volunteers are required to be vaccinated.
For more info on how we made these decisions, check out our Covid Safety page.
This is Minnesota, and the weather can be especially fickle! Of course this is all part of the fun and adventure of Art Shanty Projects.

Even on shore, visitors should be prepared for snow, wind(!), wet and/or slippery surfaces, or even rain. We recommend dressing in layers with a wind-breaking layer on the outside (if you can), and wearing tall boots (especially if you want to tromp through snow!). Waterproof options are best! Compression socks work remarkably well to keep feet warm! If you have traction cleats for your boots, bring them!
If you'd like a quieter experience we recommend coming first thing in the morning, or on colder days, when fewer people are in the village.
If you'd rather experience the village full of people, we recommend coming in the afternoons and on warmer/sunnier days. We predict the BUSIEST day to be January 28th when we share the lake with the Kite Festival.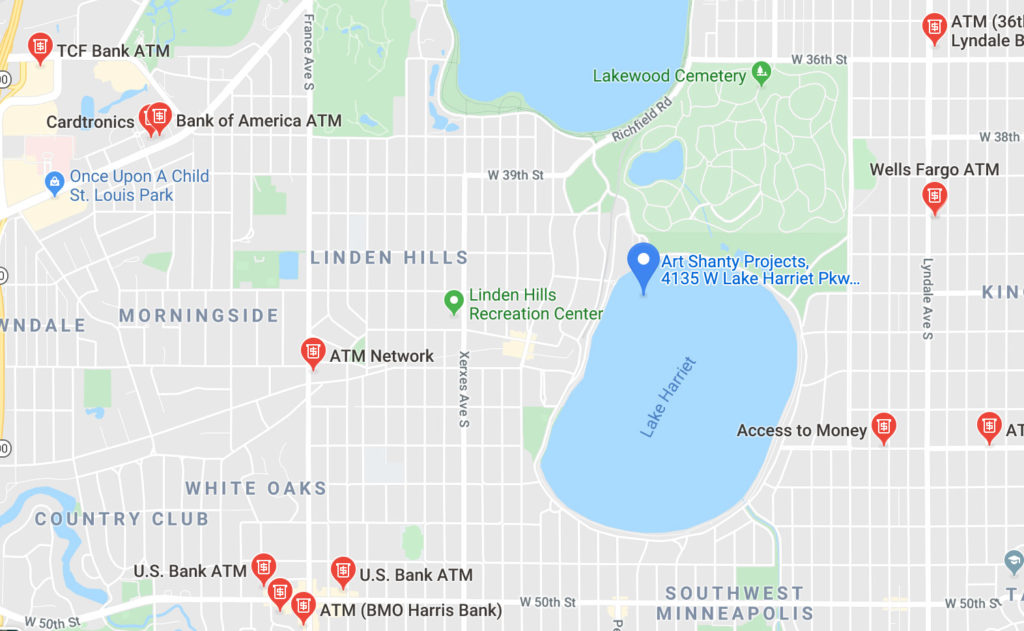 We understand the joy of bringing your pets with you! We ask that you keep the park (and the art!) clean by picking up after pets.  BYO bag, though some are provided at pet waste stations near the Welcome Shanty for your convenience if you forget. 
PSA about dogs + public art in particular:

Well-behaved, socialized dogs (accompanied by mindful humans, tethered by a leash) are welcome in the shanty village. THAT SAID, there are a lot of strange sights and sounds at our program that might stress your doggo out. And that's not good for anyone. If you're not sure how your pooch will react to things like music, odd antics, strangers, costumes, crowds, physical activities, colorful art and other dogs, please consider leaving them at home.